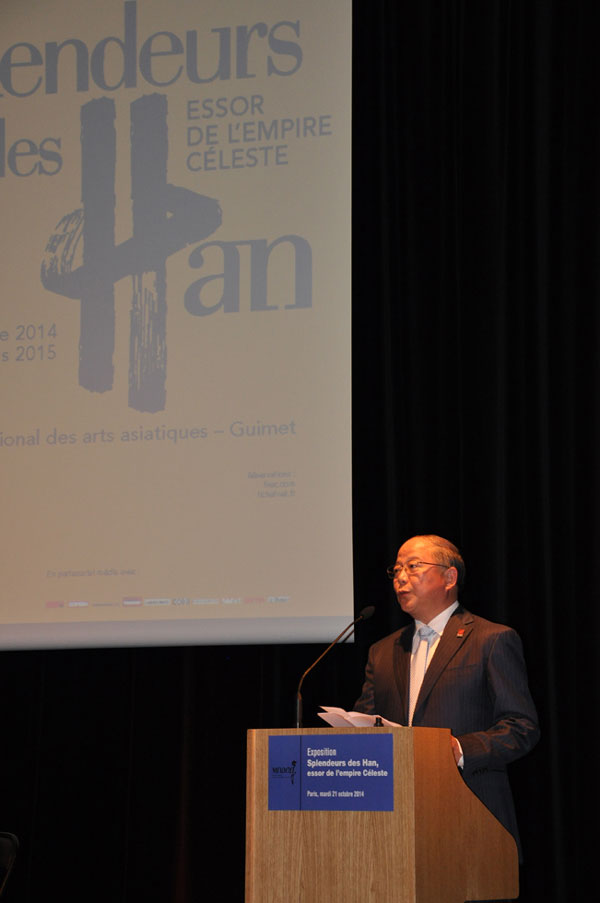 Li Xiaojie, Chinese Deputy Minister of Culture, speaks at the opening ceremony of the exhibition on Oct 21, 2014, in Paris.[Photo/Crienglish.com]
An exhibition of Chinese Han relics, The Splendor of the Han Dynasty, the Rise of the Celestial Empire, opened at the Guimet Museum in Paris on Tuesday to mark the 50th anniversary of Sino-French diplomatic ties.
The exhibition is co-hosted by China's State Administration of Cultural Heritage and France's Musee National des Arts Asiatiques Guimet.
Over 450 precious artifacts dating back to China's Han Dynasty (from 206 BC to 220 AD) will be on display until March 1.
The opening ceremony was attended by Chinese Deputy Minister of Culture Li Xiaojie, French Foreign Minister Laurent Fabius and French Culture Minister Fleur Pellerin, as well as other officials and celebrities from both countries.
Li said that it was the largest exhibition of Chinese cultural relics in France since 2003 and that the exhibits were from 27 Chinese museums in nine provinces.
"The exhibition represents a new model of Sino-French cooperation. I hope the show will attract a large number of visitors to learn about this splendid period of civilization in the history of China, or even the world," Pellerin said.
Chinese President Xi Jinping and his French counterpart, Francois Hollande, have also written a preface for an ongoing Chinese cultural relics exhibition in France.
As one of the two guardians of the exhibition, Xi said that the precious cultural heritage could give people in France and other European countries a more vivid picture of the development of Chinese civilization.
For his part, Hollande, the other guardian of the show, said it's a common aspiration of the top leaders of France and China, a nation with great civilization, to co-host the event to celebrate the 50th anniversary of the establishment of the diplomatic relationship.
Meanwhile, exhibits from five French museums and a display of French Impressionism will be put on display in China for a year.
We Recommend: