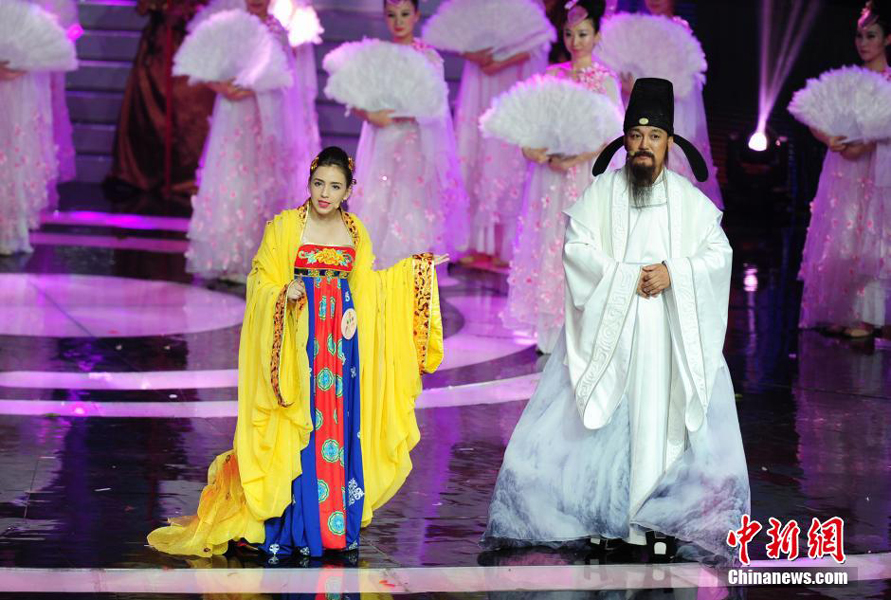 On August 3, the finals of the 13th Chinese Bridge—Chinese Proficiency Competition for Foreign College Students were held in Changsha, south China's Hunan province. Shi Moli, winner of the "Chinese Bridge" Competition, will get the Confucius Institute Scholarship for degree program in Chinese universities and a round-trip international air ticket. Moreover, she will also be granted the title "Star of Chinese Language Learner". [Chinanews.com/ Yang Huafeng]
The finals of the 13th Chinese Bridge - Chinese Proficiency Competition for Foreign College Students were held in Hunan's Changsha on Aug 3, marking a cheerful ending  to the one-month competition.
Beginning in March this year, preliminary competitions were held in six areas all over the world. A total 126 outstanding college students from 87 countries and 110 divisions got together in China in July and August to compete in the competition's semi-finals and finals.
Brazilian player Shi Moli from South America won the All-round Championship. Korean player Cheng Weixian, Russian player Lei Mingda, Zimbabwe's Ma Mingyuan and Australian player Luo Lianna respectively won the state championships of Asia, Europe, Africa and Australia.
Since the first session in 2002, the competition has been held for 12 sessions and attracted more than 300,000 college students from around the world. They showcase themselves in the preliminary matches. Over 1,000 college students from more than 80 countries were invited to China for the finals.
The competition tests the contestants' Chinese language abilities, knowledge of China's conditions and skill in Chinese culture, as well as their comprehensive learning ability. It has become an important national platform for college students to learn Chinese and understand China.
The competition bridges the five continents, and plays an important role in facilitating the communication of different peoples, languages and cultures, promoting world peace and human harmony.
As an international Chinese proficiency competition, the Chinese Bridge Contest is sponsored by the Confucius Institute Headquarters and Hanban.
We recommend: