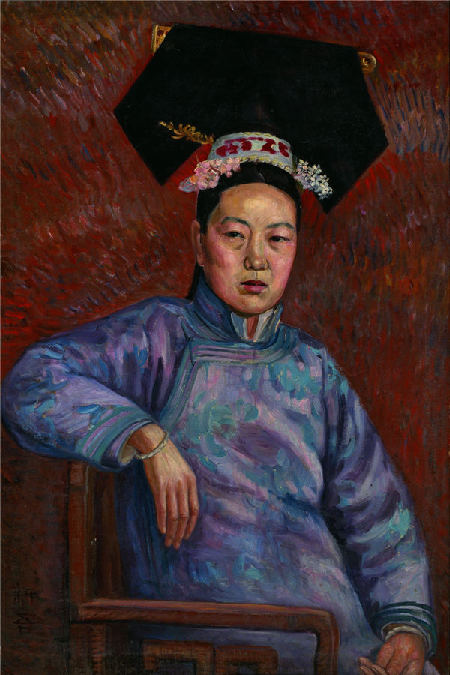 A Woman Wearing Dresses of the Man Nationality, by Wu Fading.
The reform and opening-up in the 1980s exposed Chinese painters to the diverse global art landscape beyond Soviet realism. Many turned to classicism and neoclassicism for inspiration.
Jin developed a personalstyleto form the "new classic" vocabulary. He placed the subjects in the typical composition of a classic oil painting. But he conveyed a humanistic spirit that was embraced by his contemporaries in the early 1980s in several paintings including Young Woman Singer.
"From a Western perspective, Jin appears as a leading artistic figure in the pivotal phase of Chinese art history that saw a shift from socialist realism inspired by Soviet models to more personal avenues of expression," New York-based art critic Jason Edward Kaufman wrote in a commentary on Jin's solo exhibition in 2011. "In this sense, Jin has been a gentle liberator of expressive freedom in China."
The exhibition also displays some works which are seldom available to public viewing but tell important stories, such as Li Shutong's (1880-1942) Half-Naked Woman.
Li is better known as Hong Yi, the reputed Buddhist monk. The discovery of Half-Naked Woman in CAFA museum's storehouse in 2011 reveals the master's artistic attainment before he dedicated himself to Buddhism in 1918.