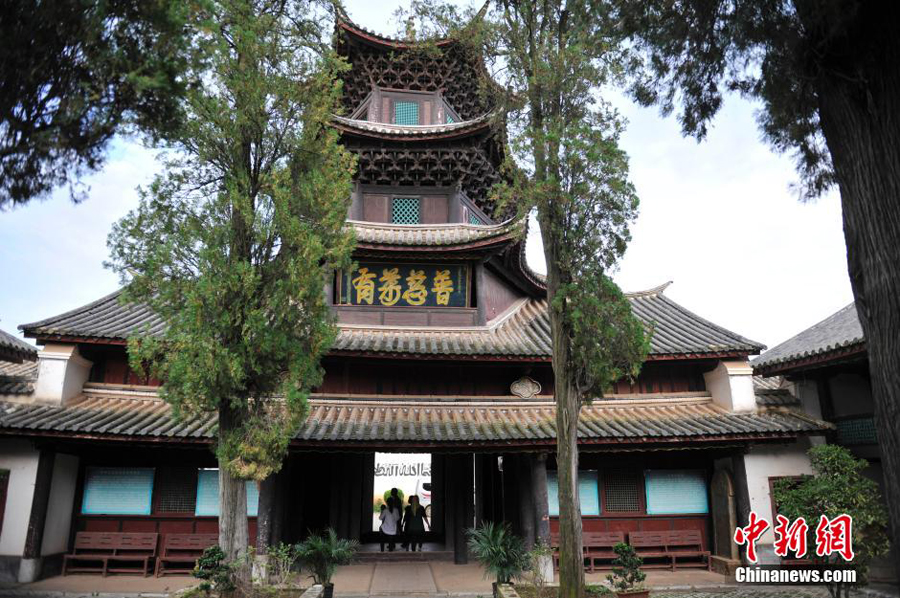 Tuogu mosque remained intact after the Ludian earthquake in Yunnan. [Photo/Chinanews.com]
For centuries, Tuogu Mosque in southwest China's Yunnan province has survived many earthquakes. The latest, the deadly 6.5-magnitude tremor that rattled the province at 4:30 p.m. on Aug 3, was no exception.
The building still stands, despite the fact that the quake originated nearby. The epicenter was in Longtoushan Township, 23 km southwest of the county seat of Ludian, in Zhaotong city. The mosque, in the Islam Tourism Zone of Ludian, is located in Taoyuan Township, six kilometers from the county seat of Ludian.
Tuogu is Yunnan province's relatively large Hui ethnic community situateed in Taoyuan Township, which is a Hui autonomous township in Zhaotong Municipality. Founded in the Qing Dynasty in 1730 A.D., it was surrounded by shady trees, fields, and hills and boasted a history of more than 260 years. Covering a total area of about 4,000 square meters, the mosque is laid out in a typical Chinese garden style. It is composed of more than 30 pavilions, rooms and four courtyards, such as the Main Hall, Huanxing Pavilion, Back Hall, and wing rooms.
According to records inscribed on steles in the mosque, in 1730, Ma Lincan and Ma Linzhi led the fundraising effort to construct the Main Hall used for religious services. Since then, the complex has undergone several renovations.
The Main Hall is 13 meters high, 18 meters long, 15 meters wide, and is supported by 36 pillars. It can hold up to 300 people praying at the same time. The Huanxing Pavilion is exquisite and well constructed, and has become the most eye-catching part of the mosque. "Huan Xing" means "to call for the neighboring Muslims for religious service".
With a unique style of architecture, the Tuogu Mosque is a first-class mosque in Yunnan province, second to none among the 100 mosques in Zhaotong. With a long history, it was known as the "ancestral temple" in Yunnan province. It amazed people with its building techniques and scientific and reasonable structure. However, the mosque has no nails, no wedges and no buckles. Surprisingly, it's remained intact after several earthquakes.
We Recommend: