The EU-China Sculptures Nomination Exhibition was inaugurated at the National Peasant Museum of Romania on July 31. Chinese ambassador to Romania Huo Yuzhen and other ambassadors to Romania attended the opening ceremony.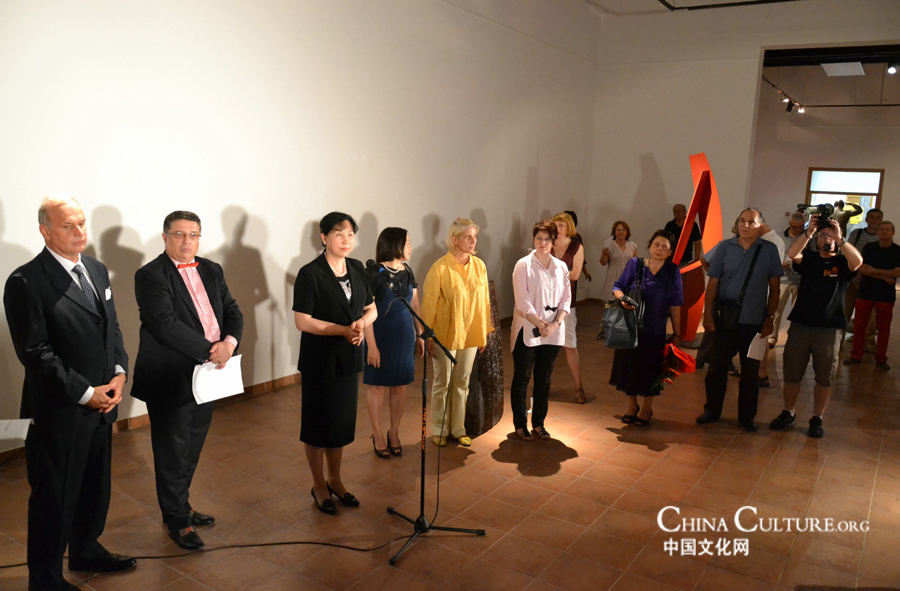 Ambassador Huo Yuzhen delivers a speech at the opening ceremony on July 31, 2014.
More than 30 sculptures in various styles and textures from artists who come from China and the 28 member states of the EU are on display. The exhibit will run for one month. Ambassador Huo Yuzhen said that the exhibition is an important activity for celebrating the 65th anniversary of diplomatic relations between China and Romania and is also a major project of the 2012 EU-China Year of Intercultural Dialogue. She also pointed out that the Terracotta Warriors, as a Chinese culture symbol, enriched with different cultural elements by the European artists can enhance mutual understanding and cultural exchanges between Chinese and Romania people.
Visitors consider this exhibition as another chance to experience Chinese culture after the Chinese National Treasure Exhibition held in Romania in 2013.
The exhibition will move to EU headquarters in Brussels in 2015. It will be its last show. After that all exhibits will be auctioned to the public and 50 percent of the proceeds will go to public welfare establishments.
We recommend: