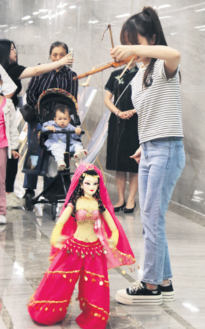 A performer demonstrates puppetry at an event arranged by the Zhejiang Intangible Cultural Museum in Hangzhou, Zhejiang province. CHINA DAILY
On the afternoon of Nov 10, as the curtain fell on a professional Kunqu Opera performance at the Traditional Theater Hall on the third floor of the Zhejiang Intangible Cultural Museum in Hangzhou, Zhejiang province, several novice performers, dressed in theatrical costumes, stepped onto the stage and started their show.
It was their first time, learning and taking part in traditional opera.
Even though their posture was not entirely natural and their singing was not polished and melodious, the enthusiasm of both the participants on stage and the audience was undiminished.
Everyone involved was visibly joyful and deeply immersed in the experience.
As the curtain fell on the amateur performance, the museum concluded its final offline event as part of its "traditional opera experience" and "study activity" series.
Launched on Nov 3, the series comprised five distinct thematic events, each highlighting the rich and diverse theatrical heritage of the province, including Yueju Opera, Kunqu Opera, and Shaoju Opera.
These events, capitalizing on the vast resources of the museum, offered participants an immersive experience in the world of traditional opera. Attendees had the unique opportunity to engage with various aspects of opera culture, including theatrical makeup, stage movements, and singing techniques.
This hands-on approach allowed participants to deeply appreciate the nuances and beauty of Zhejiang's traditional operatic culture, thus providing a comprehensive and engaging introduction to the rich tapestry of regional performance arts.
The activities were diverse, including puppetry and shadow play experiences, opera-themed lectures, performances, hands-on workshops, guided tours, makeup and singing technique tutorials, and interactive presentations.
The event also extended its reach through livestreams hosted by multiple video platforms, cumulatively attracting 3.93 million views.
As the first activity to debut, a puppet show and a classic, authentic Yueju Opera performance of The Legend of the White Snake — Boating on the Lake were performed in a subway station and were greeted by enthusiastic applause and approval from passengers.
The next event was held inside the museum, where audiences had the opportunity to delve into the world of traditional opera. They could explore a variety of theatrical elements, such as jewelry, facial makeup, helmets and costumes from Yueju Opera, Shaoju Opera and Wuju Opera. Additionally, a traditional opera stage was set up, along with three independent audiovisual rooms for appreciating the artform.
Visitors could also immerse themselves in the construction process of a traditional opera stage through a digital mini-cinema. The detailed explanations provided by the guides enriched visitors' understanding and appreciation of opera.