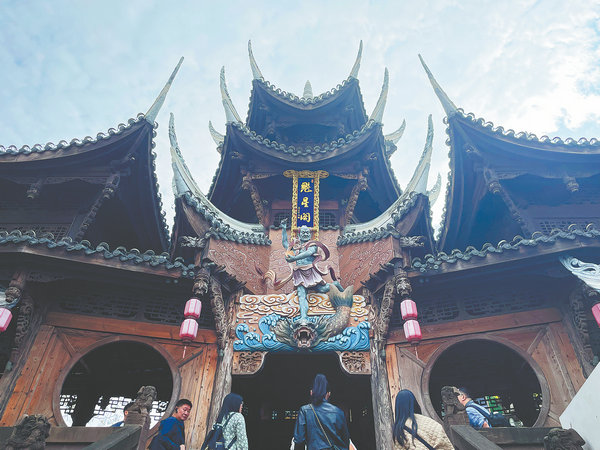 Located on the north side of the upper reaches of the Yangtze River, Yongchuan district of Chongqing might seem low-key compared with its better-known neighbors. Yet, on Oct 14, the district attracted professionals and academics from across the country to engage in discussions at a forum on green design and rural vitalization, as well as a roundtable meeting of think tanks on the theme of "characteristic small towns".
Ma Peihua, vice-chairperson of the 12th National Committee of the Chinese People's Political Consultative Conference, attended the opening ceremony of the event.
As an example of green design and development, Yongchuan has been the first in the country to offer a fully driverless robotaxi commercial service to the public, which was introduced by Song Chaojun, deputy head of Yongchuan district. There are dozens of pickup stations set up across the district covering commercial centers, schools and residential areas.
Just like any other car-hailing service with a driver behind the steering wheel, passengers place an order on an app and then move to the nearest pickup location. In just a few minutes, a white vehicle with a plate declaring it "self-driving "attached, pulls over at the station. Passengers are required to enter the last four digits of their mobile phone number on the digital screen on the car window to access the vehicle. Once passengers take their seat, safety instructions will be read and the car won't start until the passenger puts the seat belt on.
While self-driving cars shuttle back and forth through the district, giving off a futuristic sci-fi vibe, just 40 kilometers away lies Songji ancient town, which has a history of more than 2,000 years. Old stone slab roads traverse stilted buildings and courtyards built during the Ming (1368-1644) and Qing (1644-1911) dynasties, as the Yangtze River meanders by southeast of the town. The ancient buildings, parking lots, roads and other infrastructure have also been upgraded.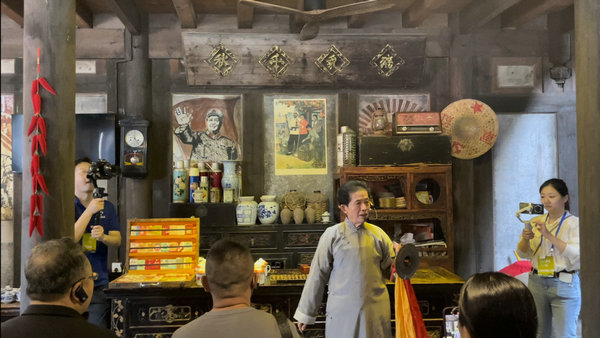 In recent years, the local government set up a tourism development management team in order to protect Songji's history and culture, and prevent it from overcommercialization. There are many residents in this ancient town who work hard to preserve and pass down their historical and cultural heritage and introduce it to the outside world.
Wang Peng, an 80-year-old pingshu (storytelling) artist, was chanting and welcoming a large audience in a teahouse by the Yangtze River.
Wang has lived in Songji for more than 40 years. He used to be a Sichuan Opera actor who traveled around learning to perform under masters all over Southwest China. After moving to Songji, he started to perform pingshu, the traditional Chinese performing art of storytelling with no musical accompaniment. There is no written script — all the lines are passed down orally. In the classic piece, Wu Song Beats the Tiger, Wang incorporates local elements. He will introduce the ancient town to tourists from afar before reciting the compelling story.
Wang Junjie, an 18-year-old college student, is one of Wang Peng's youngest apprentices. "Many young people are not familiar with this kind of art. But I take great interest in pingshu. Moreover, I think it's also useful for my future career, since I'm majoring in tourism management. When I become a tour guide, I'd like to sing some pieces for my guests if we visit traditional opera houses," he says.
Yongchuan, where modernity and heritage coexist, offers valuable insights for the development of other small towns. The city planners have demonstrated that it is possible to preserve cultural heritage while embracing technological advancement and ensuring the well-being of its residents. At this year's forum, many representatives from other characteristic small towns across the country shared good practices on development and rural vitalization. Next year's forum is expected to be held in Lanling county, Shandong province.
Li Hezi contributed to this story.