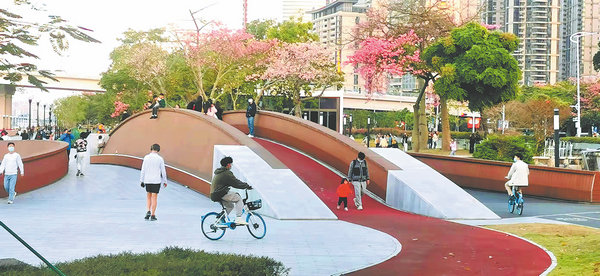 The pedestrian bridge on Yuejiang Road in Guangzhou, Guangdong province, has become a popular spot for residents since it was built two years ago. It's a combination bridge that permits three different uses: running, cycling and strolling.
On the side closest to the river, there is a walking path, where pedestrians can amble along the river's north channel, enjoying unobstructed views of both riverbanks, gazing at the Canton Tower and the imposing skyscrapers, or resting for a moment on one of the benches that dot the walkway.
In the middle, a running track arches upward, providing shade for the benches along the walking path, and respite from the summer heat.
As night falls, the pedestrian bridge resembles a lively musical note dancing along the "stave" of the riverside avenue, as its designer, Chien Chung Pei, concealed strip lights within the space beneath the handrails, cleverly embedding the lighting circuits within the bridge's side rails.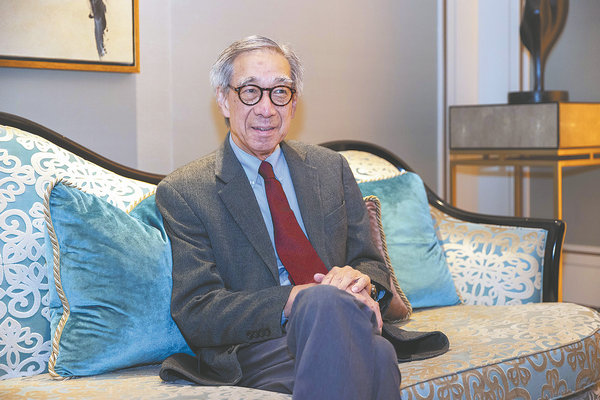 The 77-year-old Pei, a famous Chinese American architect and founder of Pei Architects, was invited by the Guangzhou government to take part in the program to beautify the riverfront on Yuejiang Road.
The construction of this bridge was done during the COVID-19 pandemic. Through online meetings, Pei "walked" the riverside with staff from the Guangzhou city planning institute and had over a dozen meetings with them to discuss the details of his design.
His vision was for people not just to transit hastily, but also to linger, relishing the river's beauty and finding a moment of relaxation while sitting against the structure.
After an absence of more than three years, Pei returned to China in August, embarking on a three-week journey. During his travels, he finally got to visit the bridge in person.
"When I told the driver to 'stop right there', it was exactly the right place," he recalls, noticing that people were already walking or jogging.