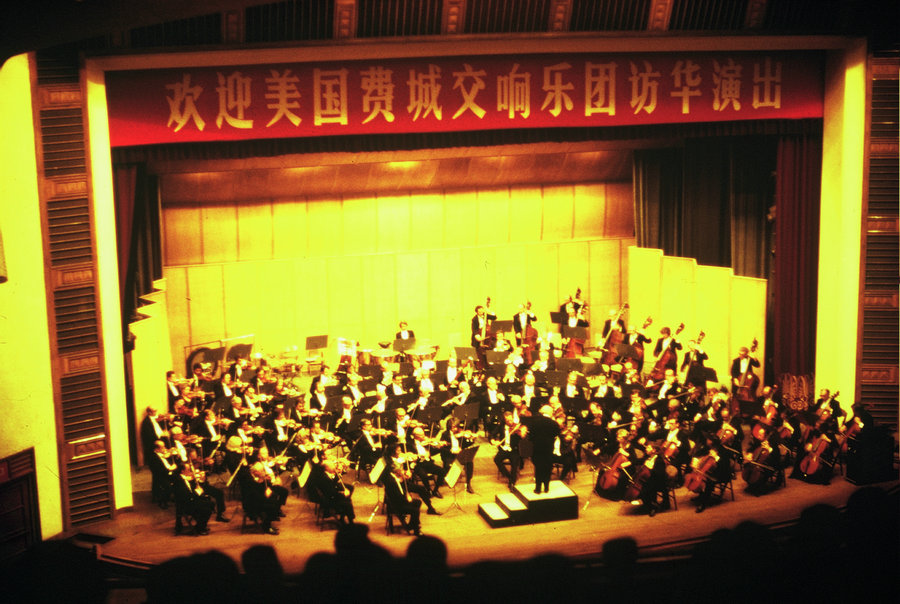 Orchestra continues to help improve Sino-US ties, transcending barriers
Fifty years ago, the Philadelphia Orchestra's "icebreaker" trip to China became a significant chapter in the history of the bilateral relationship between the United States and China, making a profound impact on music and diplomacy.
In 1973, it became the first US symphony orchestra to perform in China when the two countries had not yet established formal diplomatic ties.
At a commemorative webinar hosted by the US-China Education Trust, or USCET, on Sept 21, Julia Chang Bloch, executive chair of the USCET, said the trip "launched music diplomacy as an internal part of the normalization of relations between the US and China".
"The 1973 Philadelphia Orchestra tour was not just about music. It exemplified the best in music diplomacy," she said. "Music is universal. It transcends linguistic barriers. It speaks for everyone and connects people from diverse backgrounds."
Another panelist, Nicholas Platt, a former diplomat who had accompanied then-US president Richard Nixon during his historic visit to China in 1972, said he joined the orchestra's inaugural tour under Nixon's directive and assisted with scheduling and programming when he was one of the first diplomats charged with establishing the US liaison office in China.
Platt described the Philadelphia Orchestra's visit to China as "one of the most important moments" in his career and life.
During the 10-day tour, the orchestra performed six concerts in Beijing and Shanghai, and all of them were massive successes.
Jennifer Lin, who co-directed and produced the feature-length documentary Beethoven in Beijing recounting the orchestra's breakthrough 1973 tour of China, said the Philadelphia Orchestra is the only one that could tell the story of a half-century of US-China musical exchanges.
"Because they were the first, and they've been back a total of 12 times, which is more than any American orchestra," she said.
"It's been thrilling, and I think we almost need the messaging of this film now more than ever because, as you know, everyone has pointed out relations are very tense."
Also joining the panel were China analyst Sheila Melvin and Jindong Cai, a conductor and co-founder of the US-China Music Institute at the Bard Conservatory.
"If you look at it now, in 2015, there were about 30 symphony orchestras in China, and now there are more than 80," said Melvin, also noting that in China, there are now more grand theaters and music festivals setting the stage for contemporary music, symphonies, operas and Chinese traditional music.
"I think that China has learned so much from the West, absorbed so much of our music, learned so much from the Philadelphia Orchestra, but I really feel like now there's a lot that we can learn from China, both about managing, expanding (and) supporting our own classical music institutions and musicians."
Cai said "political obstacles" exist for such exchanges today, but he remains optimistic.
"There are so many people, so many American musicians and so many Chinese musicians, we want to make music together," Cai said. "And through those 50 years, I will say that 100,000 Chinese musicians went overseas to learn Western music."
Ryan Fleur, executive director of the Philadelphia Orchestra, said the orchestra continues to help China's orchestras, such as the National Center for the Performing Arts Orchestra and the Shenzhen Symphony Orchestra to develop "a true ensemble sound".
To commemorate the 50th anniversary of the 1973 tour, 14 Philadelphia Orchestra members, including Davyd Booth, a violinist who participated in the original tour, will travel to China for residency.