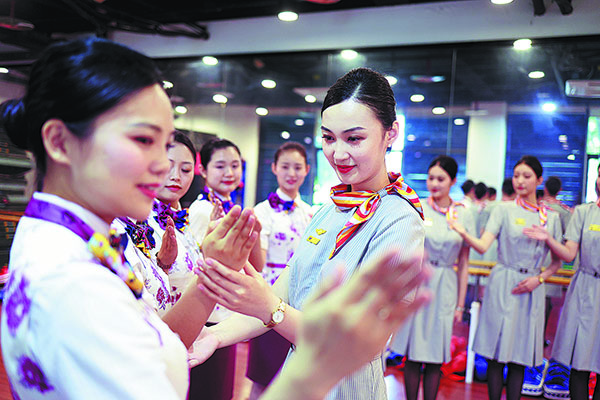 Airlines, related institutions ready to serve post-pandemic wanderlust with China leading the global pack
With demand for travel among Chinese rising rapidly in the post-COVID era, the civil aviation industry in China is seeking to hire more people to fill a range of positions.
Without such massive hiring, meeting the demand would become almost impossible, industry experts said.
The global commercial airplane fleet is expected to double by 2042, and the global aviation industry would require 2.3 million new personnel over the next 20 years, according to US aircraft manufacturer Boeing.
Given that China, Eurasia and North America will need to hire more than half of those 2.3 million, demand for aviation professionals in China is foreseen surpassing that of North America, according to the Boeing forecast.
China, in particular, will need 134,000 new pilots, 138,000 new technicians and 161,000 new cabin crew members over the next 20 years. The fastest-growing regions for aviation personnel are Africa, Southeast Asia and South Asia, with their regional demand expected to nearly double over the period, Boeing said in its forecast.
"With domestic air travel fully recovered and international traffic near the pre-pandemic levels, demand for aviation personnel continues to increase," said Chris Broom, vice-president of commercial training solutions of Boeing Global Services.
Commercial airlines worldwide will need significant numbers of new employees to support the growth of fleet size and satisfy long-term growth in air travel. Global carriers will likely seek to hire 649,000 new pilots, 690,000 new maintenance technicians and 938,000 cabin crew members over the next 20 years, the report said.
British industrial conglomerate Rolls-Royce broke ground for its Beijing Aero Engine Services Co Ltd facility in Beijing in late August. The 50-50 joint venture for maintenance, repair and overhaul was established with Air China and will help meet growing demand for after-sales service of jet engines in China.
The facility, which is Rolls-Royce's biggest investment in the Chinese mainland and one of the largest globally in recent years, is expected to be pressed into service in 2026 and reach its full capacity in 2030, the company said.
"By then, we will hire about 800 employees, including maintenance workers, and most of them will be recruited and trained locally in China, creating more job opportunities," said Rob Watson, president of civil aerospace at Rolls-Royce.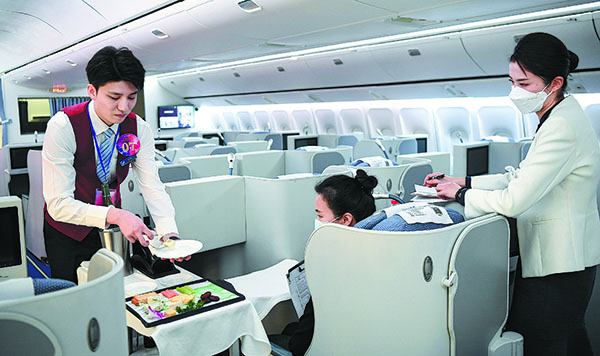 China's air travel market has been on a steady track of recovery level since the country optimized its COVID-19 response measures late last year. In the first half of this year, about 1.52 million air passenger trips were handled daily on average, almost reaching the level recorded in the first half of 2019, according to the Civil Aviation Administration of China.
Between July 1 and August 31 this summer, 130 million air passenger trips were handled in China, up 7.4 percent over the pre-pandemic level of 2019. On Aug 6, some 2.3 million passenger trips were handled during the day, the highest daily level seen during the period, according to the CAAC.
The airports in Beijing, Shanghai, Chongqing, Guangzhou and Shenzhen in Guangdong province, and Chengdu in Sichuan province saw high volumes of passenger flows this summer, the CAAC said.
Meanwhile, the recovery pace of Hong Kong's aviation industry has significantly accelerated, and it is expected that the passenger volumes of Hong Kong International Airport will fully return to the pre-pandemic levels by the end of 2024, according to the Transport and Logistics Bureau of Hong Kong.
The bureau said after the pandemic, there has been a shortage of labor in various industries, and the aviation industry is no exception. Hong Kong began to strengthen its hiring efforts in the aviation industry last year.
The SAR government recently launched a plan to hire more employees at airports by introducing labor force from other countries and regions. Some job applications have been received, and it is expected that some workers will start working as soon as the fourth quarter of this year, the bureau said.
HK Express, a low-cost carrier of Cathay Pacific Airways, started its recruitment of flight attendants in Zhuhai and Shenzhen in Guangdong province in August. It was the carrier's first recruitment event held in the Chinese mainland. The airline aims to continue to expand its fleet and further grow its competence.
Those who have been hired are expected to start their professional training in the last quarter of this year. HK Express said it would also assist newly hired employees in applying for Hong Kong work visas and provide advice on local housing.
Employees can also choose to live in cities in the Guangdong-Hong Kong-Macao Greater Bay Area that are within 90 minutes of commute time to Hong Kong International Airport. HK Express also plans to launch more flights to strengthen the connection with the Greater Bay Area, it said.
"HK Express aims to push forward its growth in the Greater Bay Area. We are recruiting more talent through different channels. Through recruitment, we hope more people can deepen their understanding of our brand, and we would like to provide more job opportunities for outstanding talent in the Greater Bay Area," said Jeanette Mao, CEO of HK Express.
HK Express has a comprehensive network in Asia, and the number of flights it operates has rebounded to the pre-pandemic level of 2019. The airline plans to continue to expand its fleet and take delivery of 16 A321neo aircraft by 2025.
Meantime, Xiamen Airlines, a carrier based in Xiamen, Fujian province, said it plans to recruit more than 1,000 flight attendants nationwide this year, the company's largest-ever recruitment drive since the pre-pandemic period in 2019. So far, the company has held recruitment events in Beijing, Chongqing, Changsha in Hunan province, Zhengzhou in Henan province and Jinan in Shandong province.
Similarly, Tianjin Airlines hired 122 new flight attendants to start work after undergoing training this summer. Nearly 70 percent of the new employees are young people born after 2000, the carrier said.
Zhang Jingjing, 23, hailing from Xi'an, Shaanxi province, chose to become a flight attendant of Tianjin Airlines this summer after emerging successful in a tough hiring process, which was followed by even tougher training and assessment.
"My mentor patiently taught me theories and practical knowledge in detail, which helped me make big improvements in the service I need to deliver as a stewardess. Now, I can master different kinds of work and understand various demands of passengers," Zhang said.
Meanwhile, in the United States, more than 800,000 people were working for the civil aviation industry as of August — a new high. The number included full-time and part-time employees who worked for passenger and freight transportation sectors, according to the Bureau of Transportation Statistics, part of the US Department of Transport.
Some 525,000 people worked for commercial airlines of passenger transportation, accounting for 66 percent of the total. Hiring of new staff members was led by United Airlines, Delta Air Lines and American Airlines. Since May 2021, the number of aviation job positions has grown rapidly every year in the US, the bureau found.