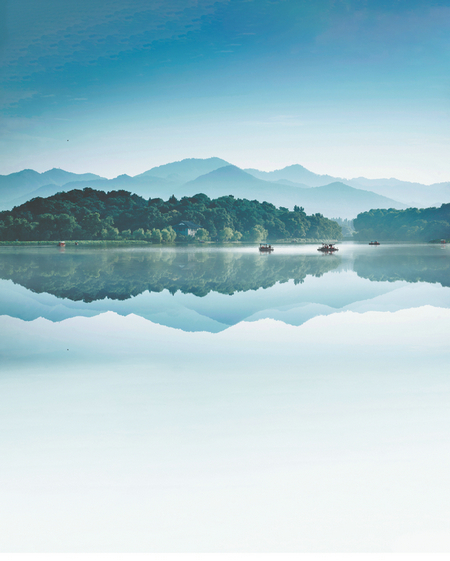 Whenever talk turns to the city of Hangzhou, Zhejiang province, and its splendid geographical attributes, you can be almost certain that topping the list will be the West Lake with its beauty, tranquillity and important place in literary and artistic history.
The green-colored Lianlian, one of the three mascots of the 19th Asian Games in Hangzhou, is inspired by lotus leaves in the West Lake. Lianlian represents purity, hospitality and opening-up, and also conveys the wish of building a shared future for mankind.
The West Lake and the hills surrounding its three sides have inspired poets, scholars and artists since the 9th century.
"The brimming waves delight the eye on sunny days; the dimming hills present a rare view in a rainy haze. West Lake may be the Xi Shi (one of the "four beauties" in ancient China), whether she is richly adorned or plainly dressed," poet Su Shi from the Song Dynasty (960-1279), wrote when he expressed his appreciation of the lake in different climatic conditions in his poem Drinking by the Lake: Clear Sky at First, then Rain.
Bai Juyi from the Tang Dynasty (618-907) wrote in Memories of Jiangnan, "Dreaming of Southern shores, It's Hangzhou I adore. The laurels fallen from the moon I'd like to store, and watch in the pavilion rise the tidal bore. When can I visit it once more?"
West Lake, also known as Qiantang Lake, has 10 poetically named scenic areas, making the lake an outstanding example of a cultural landscape that displays, with great clarity, the ideals of Chinese aesthetics. It comprises numerous temples, pagodas, pavilions, gardens and ornamental trees, as well as causeways and artificial islands. These additions have been made to improve the landscape west of Hangzhou which sits south of the Yangtze River.
The lake has been the backdrop for folk tales and myths for centuries, such as The Legend of the White Snake and The Butterfly Lovers. In the former, an ancient snake sprite transforms into Bai Suzhen, a beautiful woman and falls in love with Xu Xian, a doctor who is unaware of her true form. The Duanqiao Bridge (Broken Bridge), which is one of the lake's 10 attractions, witnesses the fateful meeting between the two.