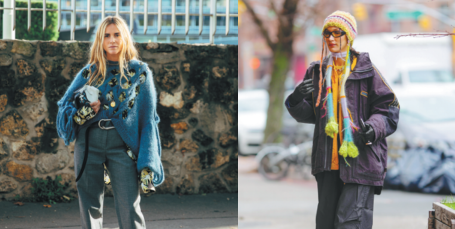 The rebel aesthetic
Worn and torn jeans, jackets bearing the battle scars of oil stains — this unmistakable style, known as the "dirty fit", has recently emerged as a captivating fashion trend taking social media by storm.
In stark contrast to its forerunner, the "old money" dress code, which imitates the refined fashion of the upper class, the dirty fit champions a unique and unrestrained look, which Chinese internet users jokingly refer to as meiqianfeng, or the "no-money style".
Dirty fit exudes a profound sense of freedom and spontaneity, much like a wild plant thriving amid chaos in an untamed field. However, in videos and photos showcasing dirty fit fashion, keen observers will discern that beneath the seemingly shabby and unkempt facade lies cutting-edge design straight from the runway. This subtle form of luxury seems to be another clever fashion trick.
The essence of dirty fit lies in the refusal to be concerned with how one's attire is perceived by others.
In a world driven by image and external validation, this movement champions a carefree attitude, where individuals confidently showcase their unconventional style online.
As a result, for many ordinary young people in China, the dirty fit concept transcends other fashion trends, representing a lighthearted deconstruction of consumerism and fashion norms. It also embodies a pragmatic and authentic approach to life.
"I'm really tired of the flashy displays of 'old money' and 'new money' fashion on the internet. I'm just a regular person with no money," joked one netizen.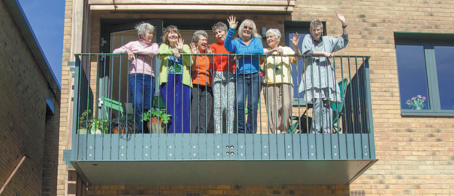 A new way to live
"I didn't want to be told how to live; I wanted to make the rules," shared Hedi Argent, a 90-year-old retired social worker in an interview with The Guardian.
Argent discovered her ideal retirement haven in New Ground, an innovative cohousing community exclusively designed for women over 50 in North London, UK.
New Ground is a three-story town house, offering individual apartments for 26 female residents. They enjoy private quarters and communal spaces, including a lush garden, shared living areas, and practical laundry facilities. This setup fosters both independence and mutual support.
The journey to cohousing was an 18-year odyssey. In 1998, Shirley Meredeen and five of her friends embarked on a quest to create a women's cohousing community in London. They founded the Older Women's Cohousing Community, tirelessly seeking like-minded women. Finally, in 2016, New Ground emerged as London's pioneer female cohousing community, paving the way for a unique living experience.
Nowadays, New Ground welcomes residents aged 58 to 94, including those who have never married, never had children, or experienced divorce or the loss of a spouse.
In today's fast-paced society, a great number of young people give up marriage and parenthood but they worry about aging alone.
Now, New Ground offers an innovative solution for the future of solitary living.
"It is liberating to choose how you're going to live and with whom," emphasized Jude Tisdale, one of New Ground's residents, speaking to The Guardian.