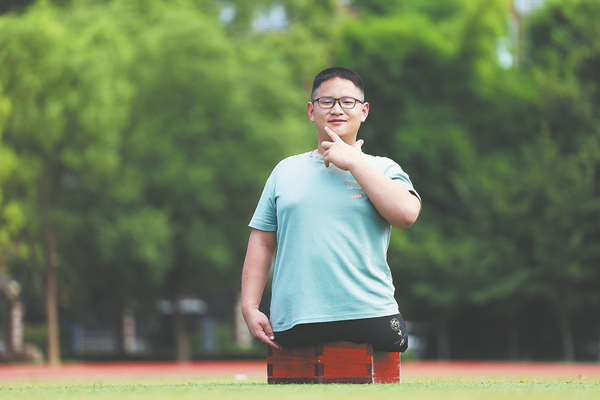 This summer, a video showing a physically disabled boy participating in military training went viral online, becoming a source of inspiration for many.
Fang Yuxiang, 15, from Yichang, Central China's Hubei province, lost both of his legs in a car accident when he was just two years old. However, he has persevered with unwavering determination, excelling both in his personal life and at school.
Fang has consistently demonstrated exceptional academic prowess. In 2018, he was the recipient of the prestigious Soong Ching Ling Scholarship. Last year, he was selected as a National Outstanding Young Pioneer. And on the high school entrance exam, Fang secured a place among the top 100 students in his county. Now he is a freshman at Yuan'an County No 1 High School, starting his studies just this month.
When he was younger, Fang relied on prosthetic legs. But as he grew, he began to encounter limitations in terms of mobility and convenience, particularly at school. At present, he uses customized stools for navigating stairs and a balance scooter for traversing flat terrain and participating in physical activities, such as PE classes. To master the use of the stools, Fang engages in a rigorous daily routine, including two sets of push-ups and half an hour of weightlifting.
For Fang, the military training that was held at the beginning of the new semester represented an invaluable opportunity to forge connections and grow alongside his new classmates. He made many new friends, occasionally discovering anonymous gifts of snacks on his desk. And he would always bring some the next day to return the favor.
As the saying goes, "It takes a village to raise a child." This was certainly true in Fang's case. He was not born into a wealthy family. His father worked various jobs over the years to support the family, while his mother dedicated herself full-time to his care.
When asked about the significance of his parents in his life, Fang struggled to find the perfect words, but ultimately said, "They are the tree that shelters me; they are the umbrella in the rain; they are my shining armor."
Singer and renowned speaker Chen Zhou serves as one of Fang's greatest inspirations. Chen, who also lacks both legs, has demonstrated remarkable resilience and determination throughout his life. He has delivered speeches and performed across the country, even scaling the Five Great Mountains using only his hands. In 2021, Chen visited Fang's middle school and invited him to join him on stage for a speech.
Chen imparted the wisdom of perseverance, advising Fang to "clench your fist tightly and never give up". Throughout the years, Chen has remained a prominent role model and source of inspiration for Fang, motivating him to overcome myriad challenges in his life.
Another pivotal figure in Fang's life is Wang Yulian who has been like a family member to the Fangs since Fang was three years old.
Wang learned about Fang's story on the Yuan'an Forum, an online community for Yuan'an residents. For Fang's fourth birthday, she and 20 other people organized a visit, bringing clothes, books, and various supplies to the Fang family. She even prepared a cake and made a heartfelt promise to be there for every birthday until Fang reaches the age of 18.
Over the years, Wang has become an integral part of Fang's extended family. Whenever Fang's parents need advice, they go to her. During special occasions like the Spring Festival, Fang takes the time to call her and extend his holiday wishes to his beloved "auntie".
Fang's journey has been shaped by the collective efforts of his "village" — his parents, his school and its dedicated faculty, Chen Zhou, Wang Yulian, his hulusi (gourd flute) teacher Ao Zhibo, and countless other people.
Fang attributes his inner strength to the love he has received throughout his life and his dream is to give back to those who have helped him.
He aspires to attend medical school. "I can take better care of myself and I hope to alleviate the burden on my parents. I can also help others and I want to give back to society through my own efforts," he said.
When asked what title he would choose for his autobiography — should he write one — Fang responded with profound simplicity: "Be Your Own Light."
He has already achieved a great deal, and there is no doubt that he will continue to illuminate his own path and inspire countless others along the way.
lixinran@i21st.cn