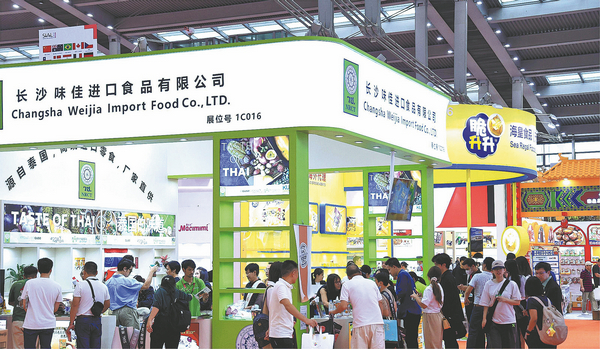 At SIAL Shenzhen, a premier international food and beverage exhibition opened in Guangdong province at the end of August, Zheng Qi's booth was surrounded by visitors who lined up to taste a wide array of quality cheeses from Europe.
His company B. Max (Beijing) Trading Co was exhibiting products that had been newly imported since its participation in the SIAL event in Shanghai in May.
"We've seen a rising number of Chinese consumers who are interested in our products," Zheng says, adding that he wouldn't miss any opportunity to introduce new products to the Chinese market.
He has found Chinese consumers are acquiring an international taste and more of them have started to use cheese to prepare Chinese cuisine.
It opens up more space for his company's business, he says.
Zheng is one of the more than 1,200 exhibitors from 33 countries and regions, including the United Arab Emirates, Egypt, Ireland, Australia, Pakistan, Brazil, Russia, France, Italy and the United Kingdom, who altogether showcased over 60,000 food and beverage products at the event, says Li Yue, a senior official with the event organizer.
"As high as 85 percent of international exhibitors present in Shanghai showed an interest in joining our Shenzhen event," Li says.
The event, which originated in France, received support from multiple French politicians who also attended.