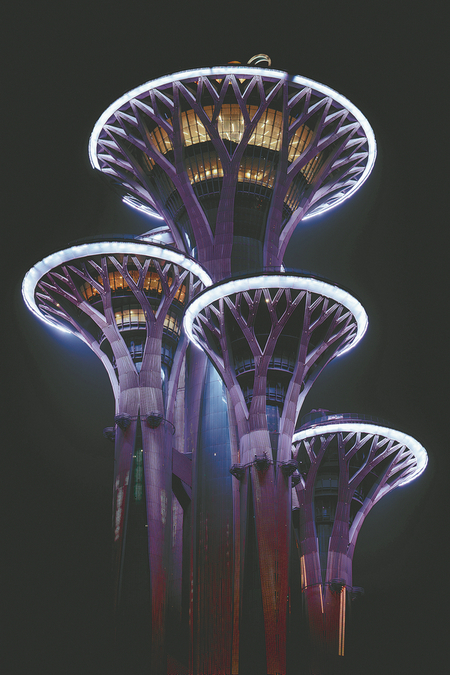 As part of a recent photography project, I was lucky enough to be invited to work alongside a group of local photographers and capture panoramic night views from the Linglong Pagoda, at the Beijing Olympic Park.
The Linglong Pagoda or Tower, which translates as Delicate Tower, was built as the media center for the 2008 Beijing Olympics, and housed international broadcasting studios throughout both the 2008 summer games, and 2022 winter games.
The tower sits roughly in the center of the Olympic Green area and gives sweeping views of the wider cityscape, and it was from this vantage point that we set out to catch a light show that was being projected from the Olympic Tower to the north.
With the Olympic Tower itself being an observation deck, this shoot was a unique chance to get an aboveground view of the tower itself rather than a view from within it.
With a design inspired by blades of glass and the five Olympic rings (that many would argue look more like massive nails hammered into the ground), the Olympic Tower was opened in 2015 and stands 258 meters tall. Even during the day, the tower is a beautifully designed piece of architecture, but its true spectacle was brought to life after sunset when the light show began.
The shifting colors and patterns highlight the sheer scale of the tower among the trees scattered around the Olympic Green, and witnessing this from the Ling long Tower emphasized this impressive architectural feat.
But turning away from the tower, there is still much to catch the eye. To the south of our viewpoint was the Beijing National Stadium and Aquatics Centre, colloquially known as the Bird's Nest and the Water or Ice Cube, and though we didn't have the visibility to see it on this particular occasion, one of the most fascinating design elements of this area is far older than anything in the Olympic Green area.
If one was to look south from the Olympic Green under the right weather conditions, there would be a clear view of the city's Central Axis. With more than 700 years of history, this concourse runs 7.8 kilometers from north to south and contains many of the capital's most famous landmarks. This balance between the ancient and modern is a testament to the thought and respect for history that went into the design of the Olympic Green.
As I generally seek out the historical locations of Beijing when photographing, it was a different experience shooting the Olympic Green area, and to work with, and learn from, some incredibly talented local photographers was a great pleasure. But even here in this hub of sport and modern architecture, Beijing still retains its ties to its long and regal history.
Contact the writer at michaelrhyscard@chinadaily.com.cn