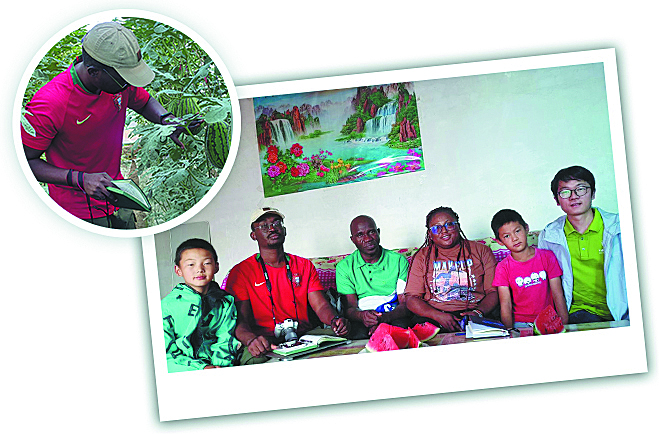 From July 19 to 24, I traveled on an expedition to the Shiyanghe Basin in Wuwei, located in the heart of a desert in Northwest China's Gansu province. Looking down from the plane en route to the destination, all I saw was endless ranges of rugged desert mountains and vast expanses of monotonous brown sands, which made it a breathtaking transformation when I witnessed green orchards and fruit farms upon arrival.
It ignited a cascade of thoughts about the plight of northern Nigeria — a region nestled south of the Sahara Desert. Nigeria, formerly a country rich in natural beauty and cultural magnificence, is now greatly suffering from aridity. Over half of its primary forests have vanished, and deforestation continues at an alarming rate of 3.5 percent a year. As a result, nearly one-fifth of the country's land is slipping into the merciless grip of desertification, putting 15 northern states — which supply most of Nigeria's food — in jeopardy, struggling with dryness and drought.
There was a stark disparity between the challenges faced by Nigeria's rural areas and the success story of the Shiyanghe Basin. While the basin boasts well-constructed roads, increased farmland productivity, abundant electricity supply, and pristine rural environments, northern Nigeria's rural regions suffer from rough and impassable roads, unpredictable crop yields, and a lack of electricity.
I saw a glimmer of hope in China's Shiyanghe Basin, which demonstrates how creativity can thrive in arid conditions.
During the trip, we explored government programs driving rural revitalization, university experimental stations, the dedication of extension agents, and the power of farmers' cooperatives in revitalizing these regions.
For example, university experimental stations are at its core. They are vibrant hubs of knowledge and innovation where researchers, experts, and farmers collaborate to develop practical solutions for agricultural development.
A survey I conducted reveals the high adoption rate of new agricultural technologies by farmers in the Shiyanghe Basin. They are highly satisfied with water-saving technology, which has led to over 40 percent water savings. Innovative approaches like drip irrigation and fertigation have optimized water usage, resulting in a significant increase in yields of up to 20 percent. In addition, climate-smart agriculture, including the use of greenhouses, has reduced labor intensity, allowing farmers to focus on other crucial aspects of farming.
A local farmer in this flourishing landscape shared his success story of expanding his farm through greenhouse crop production with me. Thanks to the nurturing embrace of greenhouse technology, his farm has grown from a workforce of 10 employees to around 100 within a decade. The pivotal role of women in agriculture is also celebrated, as their contributions enhance the vibrancy of the landscape.
We also visited a greenhouse with vertical watermelon farming. It was a well-ventilated, strategically positioned structure with shade cloth, vertical supports, drip irrigation, temperature control, supplemental lighting, and pest management. It was amazing how technology can transform limited space into a thriving agricultural powerhouse, which not only maximizes yields but also minimizes environmental impact. What's even more impressive is that it's a holistic approach: It doesn't stop at cultivation but extends to post-harvest aspects, forging vital collaborations with food processing industries and supermarkets. This ensures that the journey from seed to consumer is seamless, maintaining product quality and reducing waste.
I learned that Wuwei, although situated in a region notorious for its aridity, has striven to become a major supplier of fruits and vegetables, competing on par with other regions in southern China which are blessed with ample water resources and favorable weather conditions. Through innovative irrigation techniques like drip systems, controlled environments, and efficient resource management, they showcase the power of sustainable agriculture and the indomitable spirit of those who transform deserts into fruitful landscapes.
The expedition to the Shiyanghe Basin serves as an inspiring model for northern Nigeria, offering hope for prosperity and resilience as its farmers embrace technology, conserve water, boost yields, and transform their livelihoods. The success of the Shiyanghe Basin also emphasizes the critical role of government policies, knowledge-sharing platforms, sustainable practices, technology integration, and gender inclusiveness in driving rural revitalization. I truly believe that by learning experience from the Shiyanghe Basin, northern Nigeria can flourish once again.
The author is Olatunde Oladele, a Nigerian PhD candidate at China Agricultural University, specializing in conservation agriculture, carbon sequestration, and emission reduction. Beyond his research, he enjoys cycling and captures life's beauty through his lens, with the hope that his photos will spark joy and provoke reflection.