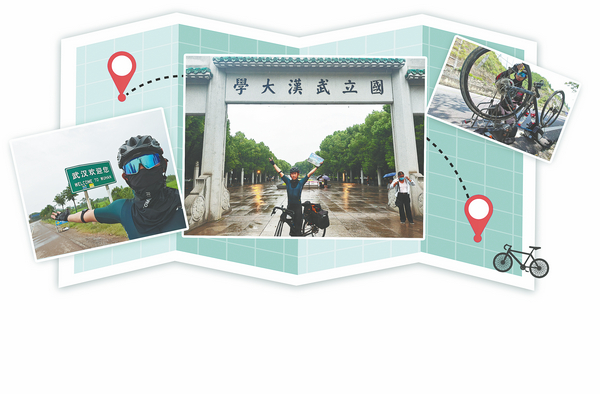 A young student from Kunming combines his passion for cycling with his dream of enrolling at Wuhan University. He rides over 2,000 kilometers to enroll, discovering the country and people along the way.
In February 1938, nearly 300 students and 11 professors and teaching assistants from three prominent Chinese universities — Tsinghua University, Peking University, and Nankai University — embarked on a long and tough journey, covering 1,600 kilometers on foot from Changsha, the capital city of Central China's Hunan province, to reach Kunming, the capital city of Southwest China's Yunnan province.
Their mission had been to allow the universities' functions to continue away from the war-ravaged parts of the country and led to the establishment of the renowned National Southwest Associated University in Kunming. In doing so, the historic expedition demonstrated to the world that, even in the midst of wartime adversity, the Chinese people remained resolute in their pursuit of knowledge and truth.
Eighty-five years later, an 18-year-old high school graduate named Wen Di made a momentous decision. Traveling in the opposite direction to the 1938 march, he cycled from his home in Kunming to Wuhan in Hubei province for his enrollment at Wuhan University.
Wen was born and raised in Kunming, a city as romantic and colorful as the jacaranda trees that flourish in the city.
He got his first bicycle at the age of 5 and, since then, bicycles have become his closest companions. Together they have traveled around the province: from Dianchi Lake and Erhai Lake to snow-covered mountains, to Dali and Lijiang.
However, cycling was not only an effective way for him to relax from the stressful life of study, but also developed his firm and calm character and mindset.
During his junior high school years, Wen came across a story in some English reading material about a young man from Anhui province who rode his bike to enroll in university. "I wanted to be like him, to ride to whichever college I get into in the future, preferably Wuhan University," he said.
Wuhan University had become Wen's dream school since he was quite young. In Wen's eyes, Wuhan is a heroic city. It has witnessed some pivotal events in modern Chinese history, such as the 1911 Revolution, while also making significant contributions during the COVID-19 pandemic.
In preparation for his cycling dream, Wen would participate in rides, long or short, during every vacation.
Every ride presented new challenges and rewards for Wen. For example, when cycling around Dali and Lijiang, covering a total distance of 484 kilometers, he experienced his most serious accident. It rained for several days in a row in Dali, and he didn't have a raincoat. He got soaked, and it was very cold. The road was slippery, and he ended up having a nasty fall from the bike. "But through that experience, I learned to always prepare a raincoat before embarking on long rides, just in case," said Wen.
After successfully completing the college entrance examination, Wen realized his dream of being admitted to Wuhan University. The 2,023-kilometer-long cycling journey was about to begin.