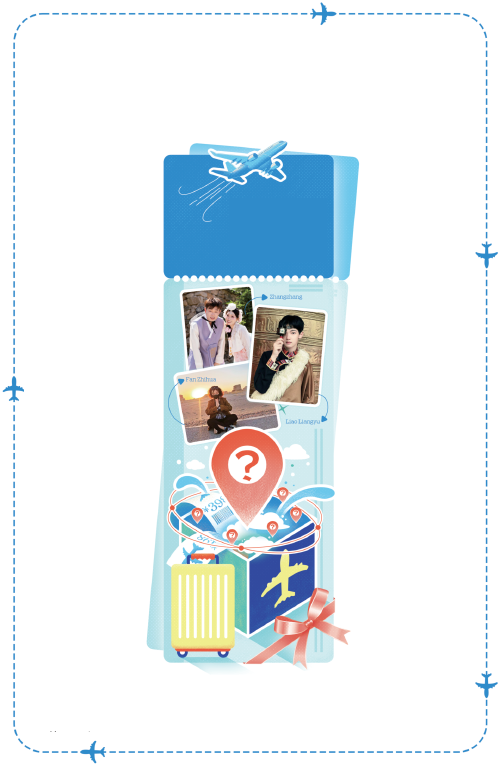 Most people plan their vacations well in advance — including where they're going. But others like the thrill of the random destinations they end up at when they buy blind box plane tickets, Li Xinran reports.
Travel is like a box of chocolates — you never know what you're going to get, especially when you're using a blind box plane ticket.
The specifics of each company's blind box may be different, but the main idea is the same: After you buy a blind box at a low price — usually 100 or 200 yuan — and select your departure airport, you will receive several destination options to choose from. Then you have a year to take your flight.
But these options are usually less popular destinations, like the one Fan Zhihua got in the very first blind box plane ticket she bought in March. The 29-year-old went to Zhangye in Northwest China's Gansu province.
"I move to a new city every two years. And I would always give myself a gap month or two in between jobs to do some traveling," said the young woman, who enjoys going wherever she wants, whenever she wants, "free as a bird".
Lesser-known destinations can actually bring surprises, Fan said. When she arrived in Zhangye, she found that she was able to share a rented car with a few other people. This allowed the travelers to save money, since many of the area's scenic spots are far apart from each other.
Fan found a group of easygoing young women to join. They went to some scenic spots together, but everyone was free to choose their schedule. "The best part of this trip is this traveling mode, fluid and romantic," Fan said.
This discovery wasn't her only gain. Before, she thought that most of the natural scenery she saw in photos was artificially enhanced. However, her trip to Gansu has changed her thought.
After a couple of days in Zhangye, the group decided to leave for Dunhuang, a city in Gansu where people can visit Mogao Grottoes. Fan was never a big fan of making travel plans, so she was thrilled about the proposal and just went along.
"I never expected myself to be wooed by nature," she admitted. "But Dunhuang really changed my mind."
Fan and her travel pals went on a camel ride, and as they entered the hinterland of the desert, she was overwhelmed by her surroundings. "I couldn't describe it. To be honest, I'm not a history lover, but when you're surrounded by the boundless desert, the impact is inexplicable," she said. "It really felt like I became Zhang Qian, an envoy in the Western Han Dynasty (206 BC-AD 24), traveling to Xiyu (western regions)."
Liao Liangyu, 16, also had a change of opinion after taking a blind box trip.
Liao traveled with a couple of friends. It started when one of them got a blind box ticket to Changsha, the capital city of Hunan province. Liao followed suit and got Changsha too. But the third of the trio wasn't so lucky — it's a blind box after all, which means you can't choose your destination. After several failed tries, the third friend eventually had to buy a plane ticket at the original price so he could join the trip.
Right before their departure, a friend told Liao that Changsha was an oversold internet sensation. But he still decided to go see for himself.
"My biggest discovery is that Changsha is a city full of contrasts," Liao explained. "You can see skyscrapers and old houses in rundown alleys in the same frame. Once, I saw some elderly gentlemen grilling right outside a Starbucks."
He described it as a mix-and-match of tradition and modernity and that there was more to this city then the "must-see" sites advertised on social media.
Unlike Fan, who takes gap trips between jobs, or Liao, who's a student with long vacations, Zhangzhang (pseudonym), 28, has to work from Monday to Friday. Blind box tickets are not viable for public holidays, so she can only make use of them over weekends.
In April, Zhangzhang bought a blind box from China United for 398 yuan plus a fuel surcharge. She would be given seven rounds of options over the course of a month. But during the first six rounds, none of the destinations caught her eye. So in the last round, she thought she would just randomly pick one instead of getting a refund. Eventually she picked Qiqihar in Northeast China's Heilongjiang province.
"Qiqihar is a city that never crossed my mind when I think of traveling, but I had the best barbecue of my life there," Zhangzhang exclaimed. "I was never a foodie but I was amazed how delicious meat could be."
This summer, Zibo barbecue was making headlines and attracting large tourist crowds for months. "Although I didn't go to Zibo, I had Zibo barbecue in Beijing. Personally, I think it's no match to Qiqihar's barbecue," she said.
The historical element and reasonable price of Qiqihar barbecue was also a plus. Zhangzhang visited a barbecue museum that introduced the history and culture of the city's barbecue. She and her husband also had a barbecue feast for only 100 yuan each.
"We felt like we ate at a buffet. It was so generous," she said.
Making friends along the way
Although all three of them are Gen Zers, they have different takes on what traveling means to them and how they like to travel.
Fan believes that life itself is a journey that consists of long-term and short-term trips, and that everyone is a brief companion.
During her trip in Gansu, one of her travel pals heard that other car-share drivers would give out "fairy wands", a kind of handheld firework. Their driver, however, told them to find someone else if they wanted the wands. The women were a bit disappointed, but didn't take it to heart and went on with their trip.
But later in the evening, as they were stargazing by the side of the road, the driver wordlessly produced a box of "fairy wands". "I would never have thought that a tough guy like him could be that adorable," Fan chuckled.
But as much as Fan enjoyed her travel companions and the driver during the trip, she never contacted them after it.
For Liao, however, it was different. "Travel is about strengthening friendships and making new ones," he said. "I have made friends all over the globe. Well, that may be an exaggeration, but that's my goal."
Since last summer, Liao has traveled a lot with his friends. "We rarely have disagreements, probably because we're so like-minded," he said. They even made a pact to leave certain decisions entirely to chance. For instance, when selecting a place to dine in Changsha, they resorted to drawing lots.
Liao also makes new friends during his trips. If he meets someone and they hit it off, they'll stay in touch on social media. "I still contact them whenever I have something I'd like to share or discuss, even long after my trips," he said.
New attitude toward travel
According to associate professor Zhang Huiying from Beijing International Studies University, Gen Zers favor personalized travel and place great value on the experiences they have while traveling. Their standards for a fulfilling experience also vary from individual to individual.
Take Fan as an example. Even if she doesn't have the opportunity to witness breathtaking scenery, she considers her trip worthwhile as long as she savors exceptional meals.
Growing up in an environment distinct from that of previous generations is also what sets Gen Z apart when it comes to traveling. "Baby boomers came of age during more challenging times, fostering in them the habits and awareness of saving money," Professor Zhang explained. "In contrast, Gen Z was raised in the era of the internet and had early exposure to the significance of personal well-being."
For instance, both Zhangzhang and Liao said they enjoy different ways of traveling compared to their parents, with less detailed planning and less touristy sites. As for Fan, she said she was born a free spirit. "No one instructed me to think this way. I simply believe that I was brought into this world to embrace as many experiences as possible and seize each day to its fullest," she said.
Another obvious reason why these blind box tickets are great for Gen Zers is that many of them have modest budgets. As these products are not usable during public holidays, they cater to students, freelancers, or individuals like Fan, who can benefit greatly from them.
Traveling during the off-season unquestionably enhances the experience for many. Both Fan and Zhangzhang have strongly recommended the blind boxes to their friends who have the flexibility to travel during less crowded times.
According to Professor Zhang, research shows that about 53 percent of off-season travelers belong to the Gen Z demographic.
Liao expressed his hope that airlines and travel websites will continue to offer blind box options while enhancing related policies and customer service. "It appears that, once the peak travel season subsides, they often overlook this customer segment," he observed.
Professor Zhang also highlighted the exceptional nature of this year, as the general public's enthusiasm for traveling skyrocketed following the pandemic. More people have become aware of the importance of their mental well-being, recognizing travel as an integral component of their lives. Given the unique circumstances of this year, she said it's hard to predict the future of blind box tickets. "But one thing is for sure: As long as there is demand, there will be a supply. Off-season travel and less-popular tourist destinations undeniably benefit from these discerning customers."
Contact the writer at lixinran@i21st.cn