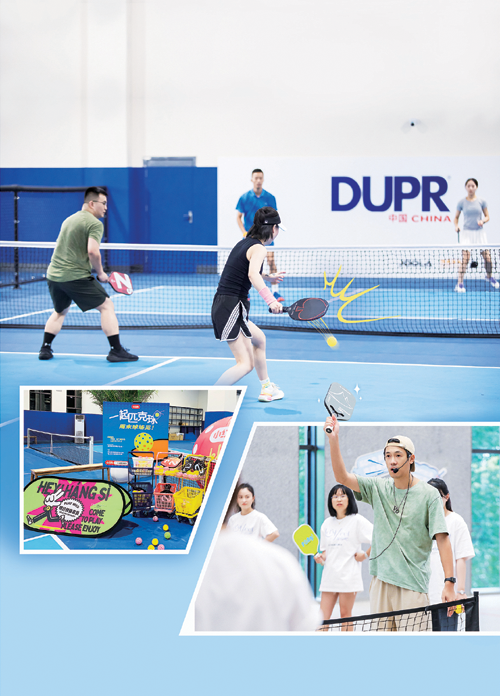 Pickleball, a laid-back sport that has been around since the 1960s, is making waves in China. Young people are growing especially fond of the game.
Peng Lan, a sports aficionado, spent almost the whole summer playing pickleball with her friends at the newly built indoor pickleball club in Chongqing.
"It is a very new game in the city and it is fun and easy to play," she said at Chongqing Simple Touch Pickleball Club, which boasts air-conditioned indoor courts built to international competition standards.
In late August, the club hosted the first DUPR tournament in the city. DUPR, which rhymes with "super", stands for Dynamic Universal Pickleball Rating and was developed in 2021 by Steve Kuhn, founder of Major League Pickleball (MLP).About 30 local players participated in the tournament.
The sport of pickleball, invented in 1965 in the United States, is a game in which two or four players hit a wiffle ball over a net. It looks like tennis, but played on a badminton court with a table tennis paddle.
The rules of the game are straightforward with little running involved, making it accessible to players of all ages and skill levels.
Thanks to promotion on social media and by local clubs, pickleball, now one of the fast-growing sports in the US, has gained sudden popularity among young people across China since spring this year.
Led by celebrities like Leonardo DiCaprio, the Kardashians and Bill Gates, it is estimated that there are currently 36.5 million pickleball players in the US. Nearly one third of the players are aged between 18 and 34, making up the largest percentage of pickleball players nationwide, according to the Association of Pickleball Professionals.
In China, from April 8 to May 8, lifestyle social media platform Xiaohongshu launched a campaign called "Pickleball Together" to promote the sport and recruit members for its own Pickleball League.
Xiaohongshu teamed up with pickleball clubs in Shanghai, Nanjing, Shenzhen, Chengdu and Chongqing to host pop-up events.
In addition to promotion by fashion and sports influencers, sports brands, shopping malls, and TV reality shows have also shown interest in collaborating with local pickleball clubs.
Peng and her friends at youth club Monster Tribe were among the first to pick up the sport in Chongqing.
Most of the club's members are young professionals who are looking for new and innovative sports to play.
Last September, Peng's friend Wu Xiaomeng happened to learn about pickleball and tried it out with some friends.
"It is a relatively equal game for both genders, as it requires more skill than physical power," he said. "It is a good social activity as anyone can easily pick up this sport and play it for fun. I believe this sport has huge potential in China."
He decided to start his own pickleball club, Simple Touch Pickleball Club, which has been equipped with first-class facilities. Since the soft opening of the club in July, Wu has received lots of positive feedback and many attendees have become regular pickleball players.
The club charges 90 yuan ($12.35) per hour for one court with free paddles and balls. This makes it cheaper than tennis and about the same cost as badminton.
Zhou Minghao, who works for a fintech company in Chongqing, started to play pickleball in May.
"As a sports lover, I have tried various sports and gotten several major injuries, so I decided to play pickleball, which is relatively safe," he said.
Zhang Xin, founder of the Chengdu PANG Pickleball Club, said that, like badminton, the sport of pickleball is fun and competitive.
"It's a sport for anyone, anywhere and anytime," he said.
World-renowned athletes like Tom Brady, LeBron James and Naomi Osaka have invested in their own Major League Pickleball teams.
Zhang's club has two outdoor courts and has attracted nearly 3,000 people during its pop-up events, which have been held with various partners since May.
Now he is working with the Chengdu Sports Bureau to promote the sport to more people, especially in schools.
"But we are short of hands, especially short of professional pickleball coaches," Zhang said.
Popularity across China
"Pickleball has been played not only in first-tier cities, such as Beijing and Shanghai, but also in smaller cities as well," said Zeng Guobiao, director of the China Liaison Office of the International Pickleball Federation (IPF).
In April, Shanghai's first pickleball court opened in Huangpu District, bringing the sport to the city.
Young people in Anhui, Shandong, Zhejiang, Sichuan, Hubei, Guizhou and Yunnan provinces are also interested in the sport and setting up clubs, he added.
Headquartered in Chevy Chase, Maryland, US, the IPF has expanded its footprint to more than 80 member countries and aims to have pickleball recognized as an Olympic sport.
Zeng is said to be the first person to introduce the sport to China. He is also the founding director of the Shenzhen Pickleball Association. Now he is assisting the IPF to promote the sport in China.
In 2016, Zeng, an international trade businessman, saw people playing pickleball on a trip to Japan. After doing some research, he realized that this sport would have good market potential in China.
"At that time, no one played it in China. But we Chinese are good at racket sports, such as table tennis and badminton, so [I thought], 'we will love it'," he said.
In 2017, he started to promote the sport in China. The next year, the sport was introduced to several primary and middle schools in Shenzhen.
But from 2017 to 2022, the sport grew slowly in China, especially during the COVID-19 pandemic.
"Now in 2023, this sport is booming and becoming a trendy activity among urban young people," he said.
tanyingzi@chinadaily.com.cn