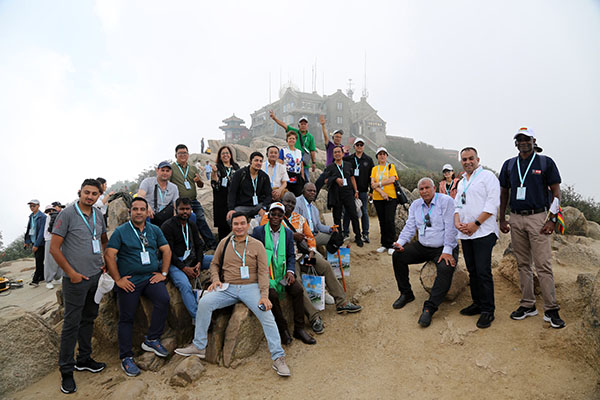 The 37th Taishan International Mountain Climbing Festival was held in Tai'an city, East China's Shandong province, from Sept 3 to 6, attended by nearly 500 guests from both China and abroad.
Under the theme of "Ascend Taishan Mountain to View the World", the international festival featured a diverse range of activities aimed at promoting cultural exchanges between China and the rest of the world. Highlights included dialogues on culture and tourism, a scenic tour of Tai'an and an international tourism photo exhibition titled "Connecting China".
Taishan Mountain, one of "The Five Sacred Mountains of China", symbolizes ancient Chinese civilizations and beliefs, and has always been a source of inspiration for Chinese artists and scholars.
During his remarks at the event's opening, Wan Ting, deputy director of the Network of International Culturalink Entities (NICE), the Ministry of Culture and Tourism, underscored Taishan's pivotal role in facilitating cross-cultural dialogues. He said he hopes the event will help further promote exchanges between civilizations.
The opening ceremony was highlighted with captivating performances such as the dancing piece "Taishan Rime", traditional Chinese music and classic Chinese opera.