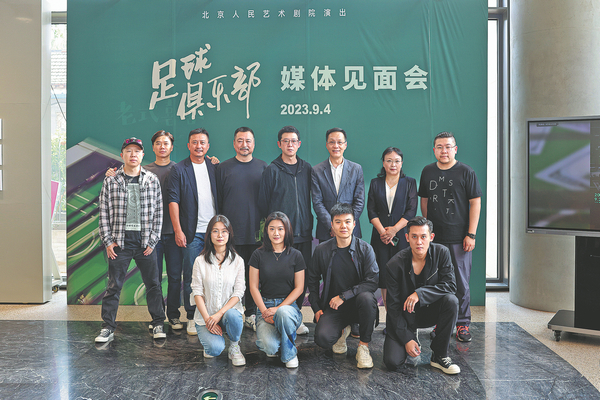 The Beijing People's Art Theatre is refreshing its adaptation of a classic Australian play, Chen Nan reports.
Set in one locale — the boardroom of a top professional soccer club — and featuring six male characters, the two-act Chinese play, The Club, adapted from Australian dramatist David Williamson's play with the same title, was a huge success when Beijing People's Art Theatre premiered it in 2002.
Now, about two decades later, Beijing People's Art Theatre announced on Monday that it would restage the play, featuring actors from the 2002 version, as well as new talent.
From Sept 20 to Oct 10, the new version of The Club will be staged at Cao Yu Theater, which is located inside the new Beijing International Theatre Center.
In the play, there are three board members: Gerry, a professional administrator, who is hired because the soccer club is undergoing changes and brings new ideas about corporate management to the club; Ted, the club's president, who has the most obvious power, at least at the beginning of the play; and Jock, the former coach and the current vice-president who holds the record for the most games ever played for the club and remains an influential member.