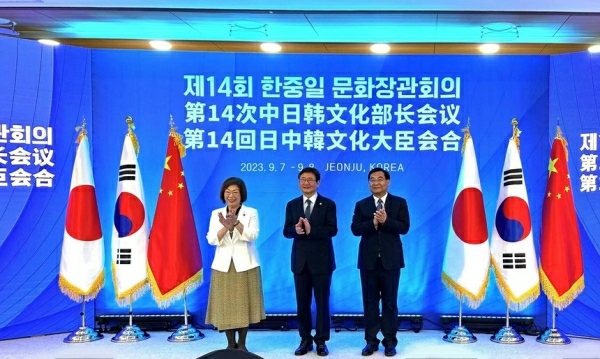 The 14th China-Japan-ROK Culture Ministers' Meeting was held in Jeonju, a "Culture City of East Asia 2023" in the Republic of Korea, from September 7-8. Culture ministers from the three countries attended the meeting and delivered speeches.
Hu Heping, minister of Culture and Tourism of China, said in his speech that China, Japan, and the ROK share close geographical proximity, economic integration, and cultural affinity. He also said that the trilateral meeting has firmly established itself as a bridge to enhance communication, mutual trust, and friendship with culture as a medium, and it has become a significant cooperation mechanism not only within the region but also beyond.
The ministers held extensive discussions and agreed on various topics including expanding cultural exchange among the young people of the three nations, strengthening cooperation among the East Asian cultural cities, and enhancing the mutual growth in the cultural industry. Bilateral meetings were also held between each of the three countries. These talks were accompanied by an exhibition of crafts from China, Japan, and the ROK.
At the end of the meeting, the three culture ministers signed the 2023 Jeonju Declaration. Weifang and Dalian of China, Ishikawa prefecture of Japan, and Gimhae of the ROK were designated as "Culture Cities of East Asia 2024".
The China-Japan-ROK Culture Ministers' Meeting, launched in 2007, plays an indispensable role in enhancing cultural exchanges and cooperation among the three countries.