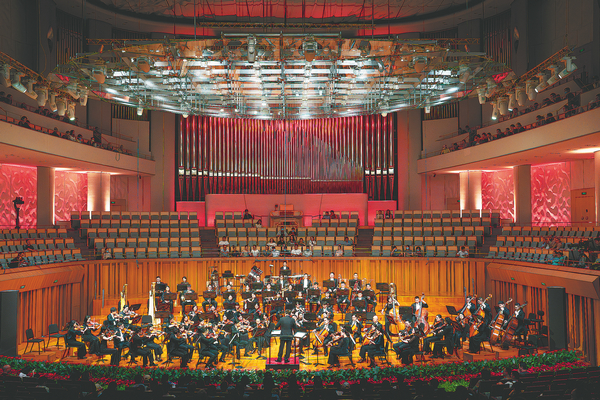 Selection of works by Anton Bruckner starts new season, Chen Nan reports.
For the past three performing seasons, the China NCPA Orchestra, led by its music director and conductor Lyu Jia, has been playing symphonies by the Austrian composer Anton Bruckner.
With the project titled The Bruckner Ciphers, Lyu aims at leading the orchestra to play the symphony cycle by the composer.
On Aug 31 and Sept 1, under the baton of Lyu, the China NCPA Orchestra played two concerts, featuring Bruckner's Symphony No 1 in C Minor. The concerts also featured art songs by Richard Strauss, performed by tenor Xiahou Jinxu.
The concerts kicked off the 2023-24 season of the China NCPA Orchestra, which will continue the project, The Bruckner Ciphers.
"We've run a survey, asking our audience about their favorite concerts in our last season and the concerts featuring Bruckner's symphonies topped the list," says Ren Xiaolong, the general manager of the China NCPA Orchestra in Beijing on Aug 31, announcing the coming season.
"This new season will see the orchestra playing Bruckner's symphonies No 1, 5 and 6. We plan to bring The Bruckner Ciphers to an end by playing the composer's fourth symphony," says Ren, adding that in 2024, the year marking the 200th anniversary of Bruckner's birth, the orchestra will record an album featuring all of his symphonies.
"He is one of my favorite composers, whose music and life story inspired me. Thus, I initiated The Bruckner Ciphers, hoping to decode the composer's music," says Lyu, who has been conducting and leading the China NCPA Orchestra for a decade.
"The great legacy left by Bruckner is his symphony cycle. He wrote 11 symphonies in all, but only nine were officially numbered. Though the composer was a late starter when it came to symphonies, all of his symphonies were successful."
Before he was appointed as the artistic director of the National Centre for the Performing Arts and chief conductor of the China NCPA Orchestra, Lyu was previously music director of Verona Opera in Italy, and was the first Asian conductor to serve as the artistic director of a major Italian opera house, the home of the European opera tradition. He was the chief conductor at Trieste Opera, and he also led productions at La Scala, Deutsche Oper Berlin, and the Bavarian State Opera, among others.