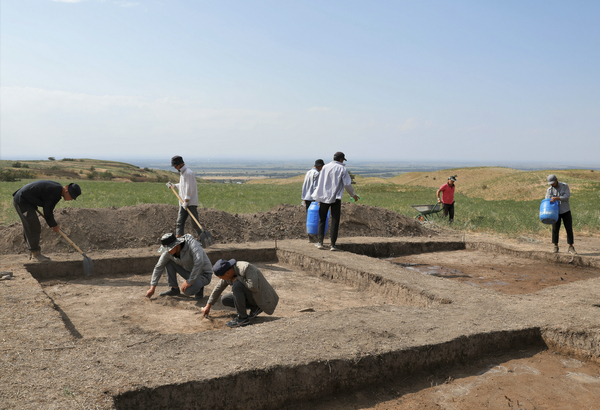 XI'AN/ALMATY — Ding Yan, a researcher at the Shaanxi Academy of Archaeology, gives the pottery fragments a few swipes with his brush and examines them with his expert eye. They have been buried for thousands of years at the Rahat site in Kazakhstan, but now the dirt is being removed and the details are being revealed.
This site was home to an ancient civilization that thrived on the Silk Road at the northern foot of the Tianshan Mountains. It is some 3,000 kilometers from Ding's usual workplace in Xi'an, capital city of Northwest China's Shaanxi province, but this has not impaired his enthusiasm for the work here.
Despite the language barrier and the differences in natural environment and living conditions, he feels at home among the brushes, hand shovels and pottery shards with their distinctive earthy smell.
Ding will be working at the site for the next three months. "We will carry out the excavation work together with our colleagues in Kazakhstan, to understand the distribution and changes to culture in the early Iron Age in the middle reaches of the Ili River," he says.
In Xi'an, Wang Jianxin, another scholar from Northwest University, who has been involved in joint archaeological work under the Belt and Road Initiative for a long time, is busy preparing for an international academic conference. The 70-something chief scientist with the Collaborative Research Center for Archaeology of the Silk Roads, has a full schedule.
After the international academic conference, Wang will travel to Uzbekistan to participate in joint expedition and academic exchanges with archaeologists from Uzbekistan, Tajikistan and Kyrgyzstan.
Xi'an, a city founded more than 3,100 years ago, served as the capital for 13 dynasties, including the Tang Dynasty (618-907), when the city was known as Chang'an.
It was also the place where Zhang Qian began his journey to Central Asia during the Han Dynasty (206 BC-AD 220) as an envoy. Zhang's pioneering expedition opened up a route that later became the Silk Road.