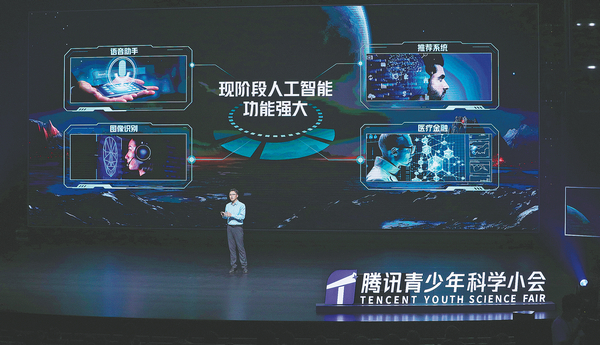 Event at Tsinghua University in Beijing explores the growing influence of AI systems and the importance of computer science education, Li Yingxue reports.
Wang Yuanzhuo, a researcher at the Institute of Computing Technology, Chinese Academy of Sciences, who is focused on big data and artificial intelligence, gave a speech at the recent Tencent Youth Science Fair.
In doing so, he showcased a unique duality - he was not only participating in the live Q&A session on the Tencent Video platform,but also engaging in educational outreach for rural children at the same time, via a digital replica.
China's digital human technology only requires three minutes of real-person video footage to create an indistinguishable digital replica,which can assist individuals in managing tasks that cannot be carried out simultaneously.
Wang, who was also the scientific consultant for The Wandering Earth 2, envisions a future where, as technology evolves, the portrayal of self-aware digital entities akin to"Yaya" in the film will start to bridge the gap between fiction and reality.
"Every step in the evolution of human technology ultimately stems from our visions of the future. However, concurrently, the future presents a multitude of intricate issues and challenges," Wang said.
"I hope that all young people retain an everlasting curiosity for this world, maintain boundless imagination for the future, and are unafraid to dream beyond the conventional boundaries."
On Aug 20, the Tencent Youth Science Fair, organized by Tsinghua University, the China Soong Ching Ling Foundation, and Tencent, was held at Tsinghua University.