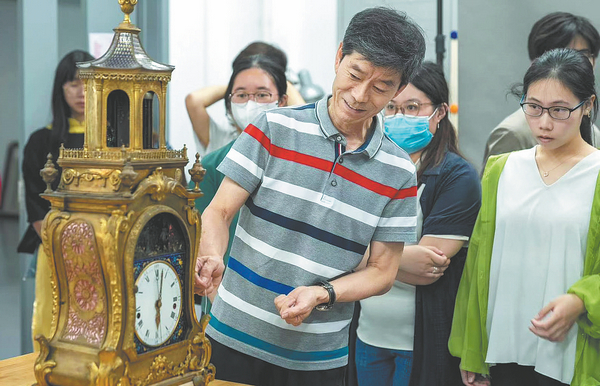 Hong Kong, Beijing student program elicits ideas, seeks to train next generation of talent, Li Yingxue reports.
"We're holding an egg, and if it falls to the ground,the white and yolk will flow out, and that's our vision for future museums," Tang Jing, a sculpture major at Beijing's Tsinghua University, said as part of her team's presentation on the future of museums.
Tang explained that the way the team see it, the eggshell is like the physical and mental barriers preventing people from simply walking into a museum, so they plan to break those barriers to attract more visitors in the future.
The student team is made up of six college students from Beijing and Hong Kong, and was one of three sharing their ideas for future museums,touching on topics from designing brochures to improving the connection with new media at the second edition of the Bi-city Youth Cultural Leadership Programme, which began in July.
The presentations were part of a cultural exchange session at the Palace Museum in Beijing on Aug 22, during which the 16 participating students from the three teams engaged in an insightful discussion with experts on topics like encouraging the inheritance of Chinese culture, the future of cultural enterprises, and the use of technology and innovation in cultural promotion.
Wang Xudong, director of the Palace Museum, is impressed by the proposals for attracting more visitors to museums and improving the visiting experience.
He says he has been looking forward to seeing the feedback, as well as the updates to the creative ideas.