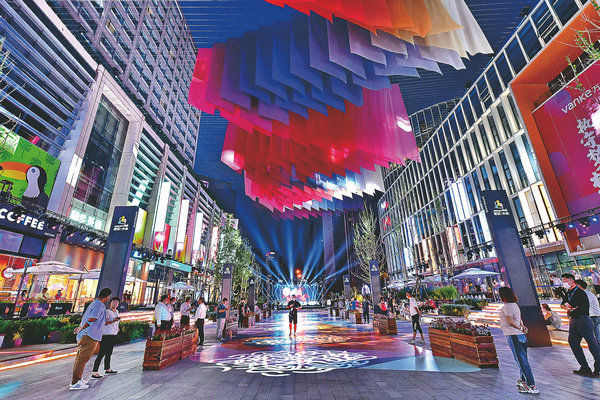 At the ongoing China International Fair for Trade in Services, Beijing's Chaoyang district has set up two exhibition zones to showcase its latest achievements in the sectors of cultural tourism and finance.
This year's CIFTIS, a major platform for service trade in the country, is being held at the China National Convention Center and at Shougang Park in the Chinese capital from Saturday to Wednesday.
Chaoyang's culture and tourism-themed exhibition zone is situated at the No 1 venue of Shougang Park. It focuses on the integration of culture, science and technology, as well as the new trends of culture and tourism consumption.
Via immersive experiences and the interactive consumption of intelligent application scenarios, the exhibition is expected to display high-definition, digital twin, intelligent interaction and other digital technologies.
It also introduces a group of new cultural products and services, such as digital music and digital tourism, and highlights the district's characteristics of digital culture, fashion consumption, openness and vitality.
The exhibition aims to demonstrate Chaoyang's development potential for the construction of a digital economy core area and a cultural consumption demonstration area.
More than 60 well-known cultural enterprises in the district are part of the exhibition, bringing participants an eye-catching and fun cultural feast.
Among them, Beijing Chaoyang Culture and Tourism Development Group is displaying several projects and products at the fair for the first time. They include the Liangma River International Waterfront Area; the BOX urban renewal and innovation project; the Wenyu River Park — a model project in ecological civilization construction; and the world's only double Olympic park — the Olympic Forest Park.
Another Chaoyang exhibition zone on the theme of finance is set up at the No 9 venue of Shougang Park.
In addition to offline exhibitions, the district has launched an online exhibition, which consists of an introduction, scenes and news about Chaoyang, and logos of exhibitors.
More than 400 enterprises have signed up for the online exhibition, including Canon Medical Systems, ABB China and Siemens. People can view the exhibition through their mobile phones and computers.
During the service trade fair, Chaoyang will organize enterprises to participate in the special activities of "investment in China" and "Beijing Day", to release their latest products and services.
Also, the district will host a trade in service development summit to promote Chaoyang's good business environment and attract more new forms and models of service trade.
It will also hold an investment-themed promotion event. Enterprises, business associations and organizations, and professional service institutions will be invited to share development paths and cutting-edge experiences, seek new opportunities for development and international investment, and promote the implementation of new projects.
As a major culture and consumption district in Beijing, Chaoyang ranked first in tourism revenue in the city in the first half of this year. Its total tourism revenue reached 62.34 billion yuan ($8.6 billion) during the period, a year-on-year increase of 110.5 percent, accounting for 23.95 percent of the city's total. It received more than 32 million tourists during the six months, an increase of 77.4 percent year-on-year.
The district has continued to innovate and explore new business forms of culture and tourism through cross-industry integration. For example, it has carried out urban renewal projects to transform old industrial plants into cultural tourism consumption destinations.
It also encourages cultural industrial parks to open up public service spaces in a bid to upgrade the parks from industrial agglomeration to urban cultural parks.
Chaoyang has recognized 20 cultural and industrial integration demonstration parks and 18 characteristic cultural and tourism consumption streets.
It is now home to 17 city-level centers where one can experience the capital's culture and tourism. They include the China Puppet Art Theater, China Red Sandalwood Museum, 798 Art District and 751 D Park.