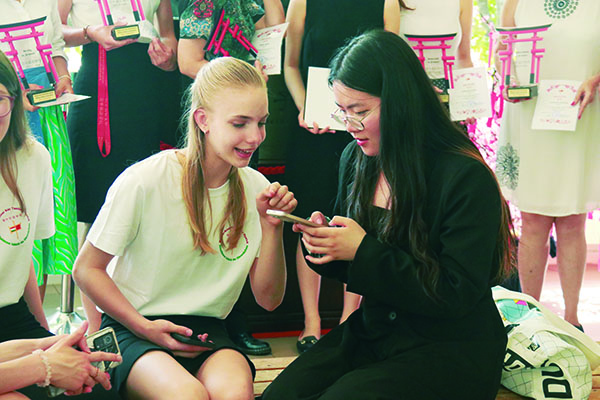 "I learned the 12 Chinese zodiac signs last year, and I can still recite them," said Inges Denissza, a 13-year-old Hungarian girl at the Hungarian-Chinese Bilingual School in Budapest, the capital city of Hungary.
Eventually, she managed to recall 11 of them, which was already impressive enough for us Chinese students visiting the school.
From June 22 to 29, a group of 13 students and two professors from Tsinghua University went to Hungary as part of a field trip run by the university, which focuses on global competence cultivation and intercultural exchange among young people.
This was following a reply letter by Chinese President Xi Jinping to two students studying at the Hungarian school in January. In the letter, he encouraged them to be young ambassadors of China-Hungary friendship.
During the trip, we were constantly surprised by how much Hungarian youth know about Chinese culture. One example is Denissza's elder sister, Inges Dorina, 17, who won the 14th "Chinese Bridge" Chinese Proficiency Competition for Foreign Secondary School Students in Hungary in 2021. She demonstrated an impressive Chinese tea ceremony for us — preparing the tea set, pouring the water, washing the tea leaves and brewing the tea.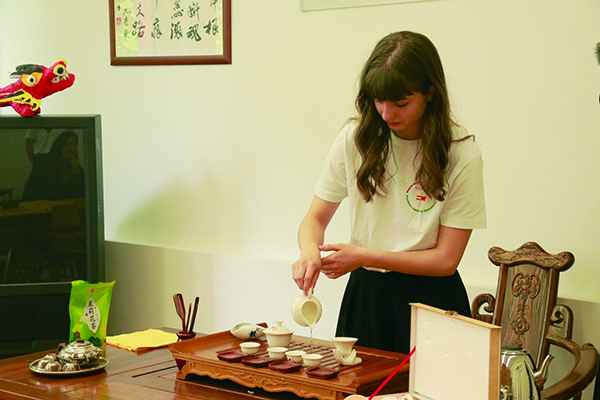 "You really amazed us," said Zhang Zhiwei, a Chinese student in our group, to Dorina, after smelling the aroma and taking a sip of the tea Dorina made. "The truth is that not many young people in China know how to perform a tea ceremony, including me."
Dorina told us that she learned it in a special training for the Chinese Bridge competition and that she was planning to go to college in China one day to study environmental engineering.
Many other elements of Chinese culture, such as mahjong and wuxia (martial arts) novels, were also popular topics in our conversations with local youth.
"Chinese education in Hungary is booming," said Professor Ye Qiuyue at the Confucius Institute of Eötvös Loránd University in Budapest. "The flourishing of Chinese enterprises here also brings a practical element to Chinese language learning for local students."
We also had the chance to visit several Chinese enterprises. We were impressed by the spotless factory of Huawei's European Supply Center and the professionally-dressed Hungarian employees operating sophisticated instruments, as well as by the warm welcome we received at the Budapest office of China Railway Group Co., Ltd. (CREC).
This year marks the 10th anniversary of the Belt and Road Initiative (BRI). Among European countries, Hungary was the first to sign a memorandum of understanding (MoU) on Belt and Road cooperation with China. Despite being on opposite ends of the Eurasian continent, China and Hungary are developing a reciprocal bilateral relationship through BRI and other cooperative mechanisms.
"BRI is a global program. It has great potential to improve people's livelihoods and promote the bilateral relationship between China and Hungary," said Uatali Gsenger, a Hungarian worker at CREC, during our visit. In fact, Gsenger used to study in China, and BRI was the theme of one of his dissertations.
The Chinese-backed Serbia-Hungary Railway, one of the major projects by CREC, is representative of the collaboration between China and Hungary. The project renovates and reconstructs the existing railway while maintaining its cultural significance and more-than-100-year history. When completed, people will be able to travel between Hungary and Serbia at twice the speed than before.
"The trip made me realize how the construction of BRI has truly enabled Chinese and Hungarian people to come together through economic and people-to-people exchanges," said Peng Xinyi, a student from the team, on the last day of our journey.
Before leaving, we exchanged social media accounts with our new Hungarian friends and promised to keep in touch and see each other again — hopefully in China.
Written by Guo Wenqing. Peng Xinyi contributed to the story. Both are graduate students at the School of Journalism and Communication, Tsinghua University.