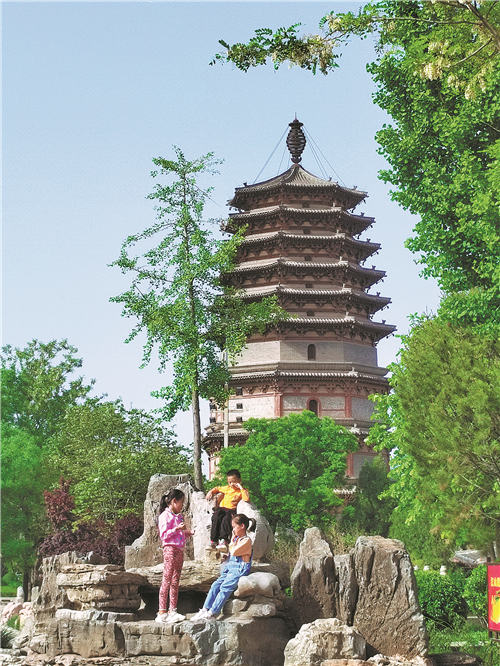 When my family arrived in Zhengding on summer vacation, my wife and I didn't expect this small city in central Hebei province and less than 300 kilometers from Beijing, to be such a big surprise to us.
But it was no surprise to our 16-year-old son Zhao Ruopu, who planned this self-driving family trip.
He is a fervent enthusiast of Chinese history, especially ancient architecture.
His enthusiasm was inspired by Liang Sicheng (1901-72) and Lin Huiyin (1904-55), the renowned couple who devoted their lives to the research and protection of ancient buildings.
Following the footsteps of Liang and Lin, my son has planned a number of family trips to see ancient structures across the country. The tour of Zhengding was the most recent.
During his planning, he referred to a lot of documents about the architecture of Zhengding, especially the accounts by Liang and Lin. This preparatory work made him the best tour guide.
Our first stop in Zhengding was Longxing Temple in the east of the city. Covering a land area of more than 8 hectares and consisting of dozens of halls and rooms, Longxing is the largest Buddhist temple complex I've ever seen.
Longxing marvels not only in scale, but more importantly, in details. Especially the details bearing characteristics of its age of construction.
Walking about 100 meters from the southern gate, we came across the most impressive structure of the temple, the Muni Hall. Zhao said it was so named because it houses a large statue of Sakyamuni, the founder of Buddhism.
He went on to say that although the temple was first built in the early Sui Dynasty (581-618), the Muni Hall, the earliest preserved wooden structure in Longxing, was built in the early Northern Song Dynasty (960-1127).
The identification was made by Liang judging from its style and its structural and decorative details.
Examining the hall from its four sides, the first things that impressed us were the four smaller buildings attached to the main hall. Zhao said the four buildings are called baosha, or embracing structures.