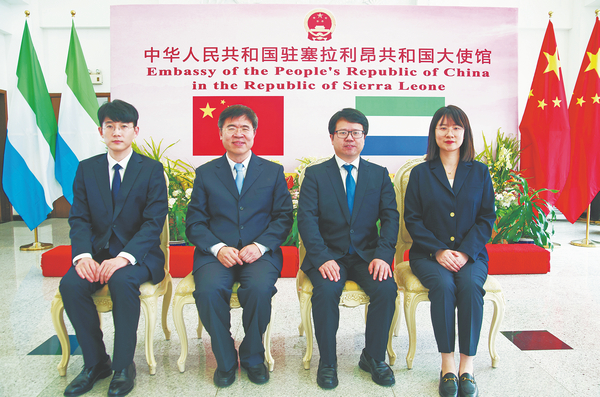 Through his efforts in health education and promotion, Chinese gynecologist Tian Qi aims to create a solid foundation for prosperous societies at home and abroad.
From July 23 to Aug 12, Tian Qi joined a team of three Chinese doctors on a trip to Freetown, the capital city of The Republic of Sierra Leone in West Africa. This was China's 24th medical mission to the country, with the objective of supporting local doctors in conducting cervical cancer examinations.
Tian, 35, witnessed the stark medical challenges that Sierra Leone faces. He said they experienced a sudden power outage during a medical examination, which lasted more than a day. Medical workers there have a poor concept of sterilization: they would simply wash their tools with water and proceed with the next patient, not to mention the acute shortage of gynecologists in Freetown, with no more than five available to serve a populous city.
"If this is the situation in the capital city. I can hardly imagine how things must be in smaller towns and in the countryside," said Tian.
However, what struck him even more was the absence of fundamental health awareness among local women, leading them to overlook early signs of cervical cancer. He remembered a case where a woman had a tumor that had reached the advanced stages due to delayed seeking of medical attention.
"Premature sex and sexually transmitted diseases are also very common here," said Tian.
Aug 19 every year is Chinese Doctors' Day, a tribute to medical professionals like Tian, who holds a PhD and is a gynecologist at Hunan Provincial Maternal and Child Health Care Hospital in Changsha, Hunan province.
His day typically begins with the morning rounds, followed by conducting various surgeries that often last three to four hours each. In his role as a surgeon, standing for 10 hours a day is part of his daily routine and is occasionally followed by 24-hour shifts.
But Tian still finds the time to read research papers and engage in academic pursuits, even during brief intervals between surgeries. His driving force is simple yet profound: "For me, publishing research is not for career advancement but to share knowledge with fellow doctors, enabling them to enhance patient care."
This is also why Tian's mission transcends the hospital walls. In 2015, he delivered a lecture on women's health at the Graduate School of Hunan Agricultural University, emphasizing the power of prevention through education.
"If you only treat patients who are already sick, you can help a limited number of people. But if you share information about health with a larger group, they can learn how to prevent problems early on. This is actually more valuable for society," he said.