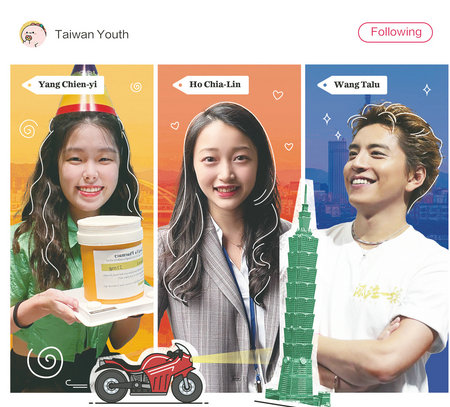 The popularity of Chinese mainland social media platforms in Taiwan is giving rise to greater engagement and connections among youth.
In today's digital world, young people in Taiwan and the Chinese mainland are connecting in exciting new ways. One platform that's bringing them together is Xiaohongshu, a place where young people across the Taiwan Strait share their interests and lifestyles.
Jia Xuanning, a scholar from the College of Social Sciences, National Taiwan University, looked into how young people use social media. In one of her recent studies published in the journal Cross-Taiwan Strait Studies, she noted that among the many social media platforms used in Taiwan, Xiaohongshu has ranked as the most downloaded free app on both the App Store and Google Play for much of the past two years, defeating other major social media platforms like Facebook and Instagram.
Data released by SimilarWeb, a digital market intelligence company, shows that over 65 percent of the users in Taiwan who downloaded Xiaohongshu from Google Play are females, with the highest user percentage observed among those aged between 18 and 24.
As a new user of Xiaohongshu, Ho Chia-lin, a 24-year-old law student from National Taiwan University, has witnessed how popular the lifestyle-sharing platform is among her peers. "I had a 12-day trip to the Chinese mainland in March. Before I set off, many of my friends in Taiwan recommended this app to me to better plan my trip. One of them is now even a vlogger on Xiaohongshu."
The platform has opened new doors for Ho, as she can learn about the lifestyles of young people on the Chinese mainland and share common hobbies with them, for instance, makeup tutorials, "OOTD" (outfit of the day), and films and TV dramas.
Take the hit film No More Bets, released on Aug 8, as an example: Topics related to the film have received over 400 million views on Xiaohongshu so far. As an avid social media user, 32-year-old Taiwan actor Wang Talu, who stars in the film, likes to check out audience reviews on social media platforms, including Xiaohongshu.
In the film, Wang portrays a graduate student who encounters multiple online frauds on social media and gets drawn in deeper and deeper. "Many netizens have left comments under my posts on Xiaohongshu, sharing their views and even creating some memes for the character," said Wang.
With more than 150,000 followers on Xiaohongshu, Wang enjoys exchanging banter and information with netizens from both sides of the Taiwan Strait. He not only uses internet slang popular on the Chinese mainland, like "the wheel of fortune is beginning to spin" — meaning that someone's destiny is about to change — but also scrolls through posts related to people's lives in Taiwan. "For example, I 'like' the posts about the landmarks that I've been to in Taiwan and I also 'mark' the new fancy Taiwan shops and restaurants that people have recommended," said Wang.
In recent years, Taiwan has also been a hot topic on Xiaohongshu, with more than 1.6 million posts covering all aspects of life in Taiwan. Apart from guides for travel and local delicacies, some Q&A posts have also become increasingly popular among young people from both sides of the Strait, where users from the Chinese mainland ask questions to people in Taiwan.
"I really like reading these posts and learning more about people's impressions of Taiwan. It's really fun," said Yang Chien-yi, a 22-year-old Taiwan student studying at Central South University in Changsha, Hunan province.
According to Yang, the most frequently asked questions are related to common phrases used in Taiwan. For example, people may wonder about the meaning of jiche — literally translated as "scooter" — as in "you are being so jiche", a colloquialism that has appeared in many Taiwan TV dramas.
"It's actually used to describe someone who is fickle or picky — that's what we say when we're really annoyed with someone," explained Yang. "But this phrase is kind of out-of-fashion and the younger generation in Taiwan doesn't use it."
In Wang's eyes, these online interactions reflect his generation's particular attitude toward life. "Today, young people from Taiwan and the Chinese mainland all value life experiences, and we tend to look for fun things to do in our own ways."
However, sharing lifestyles on Xiaohongshu is just one example of online cross-Strait exchanges among young people, with Taiwan users also frequenting various other social media platforms popular on the Chinese mainland. Both Yang and Ho said they also use Bilibili, a leading video-sharing platform, where they love watching video mashups.
Ho said that she started watching videos on Bilibili back in high school, and one day she saw a bullet comment on the screen mentioning an app named Zhihu, a knowledge-sharing platform. Filled with curiosity, she applied for a Zhihu account, allowing her to learn a lot from many of her peers on the Chinese mainland. "We share the same hobbies and understand each other's memes. We are not that different," noted Ho.
And the online exchanges among youth don't stop there. Yang said that her 10-year-old little sister is a big fan of Xiaohongshu and the short video platform Douyin. "My sister knows about almost everything that's going on on these apps, and I've learned so many trending topics and buzzwords from the Chinese mainland from her," she said.
Observing a similar passion and enjoyment for social media among young people across the Strait, Jia believes that browsing social media has now become an essential part of their daily lives. "In today's world, social media holds significant importance for the young generation. It acts as a means through which they absorb cultural insights, gather personal experiences, and slowly shape their self-perceptions while gaining a better understanding of the world," she said. "Drawing from these insights, they can also become better versions of themselves."
Contact the writer at wangxingwei@i21st.cn