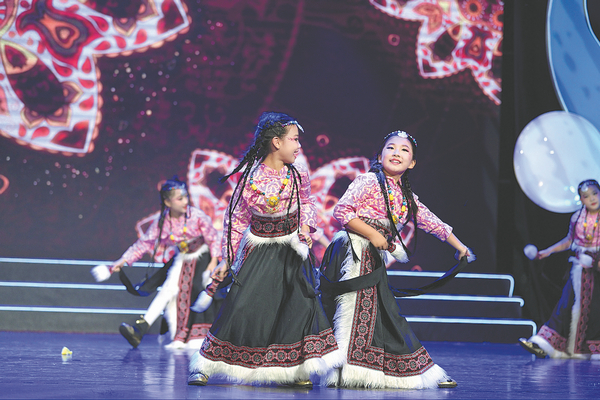 The 9th edition of the Joy Dancing Beijing Culture and Art Exchange Week of International Youth opened in Beijing on Tuesday.
The opening ceremony saw the participation of children and teenagers, from both home and abroad, deliver performances featuring dance, songs, rap, djembe (a West African drum) and poetry recitals, showcasing regional cultural elements and expressing the themes of harmony and peace.
"All the performances in the opening gala were meticulously selected to showcase international perspectives, the characteristics of Beijing and the grandeur of China," chief director of the ceremony Chen Xini says.
"Many contemporary subjects, such as the Global Civilization Initiative, the 10th anniversary of the Belt and Road Initiative, biodiversity conservation, global intangible cultural heritage, rural vitalization and traditional Chinese culture, were showcased through artistic expression."
This year's event consisted of three major sections — the opening gala, an art carnival and an art education program, with the aim of providing young people, from both home and abroad, the opportunity to foster friendship, deepen their understanding of other cultures, as well as immerse themselves in the cultural atmosphere of Beijing.
Sixteen youth delegations, from countries including Brazil, Italy, Nigeria, Russia and Thailand, as well as more than 3,000 young people from around China, participated in performances and cultural exchange activities.
A few delegations also attended events hosted at the embassies of Mali, Ghana, Chile, Armenia and Uzbekistan, among others.
The exchange week, which concluded Thursday, was overseen by the China Soong Ching Ling Science and Culture Center for Young People and the Beijing People's Association for Friendship with Foreign Countries, and was co-hosted by Beijing Trade Association for Performances and the Charming Schools event committee.
"Under the theme of 'colorful Silk Road', we aim to foster mutual learning among civilizations through art exchanges, promote connections through dialogue, and create a new chapter in Belt and Road cooperation featuring extensive consultation, joint contribution, and shared benefits," says Wang Yanxia, vice-president of the Beijing People's Association for Friendship with Foreign Countries.