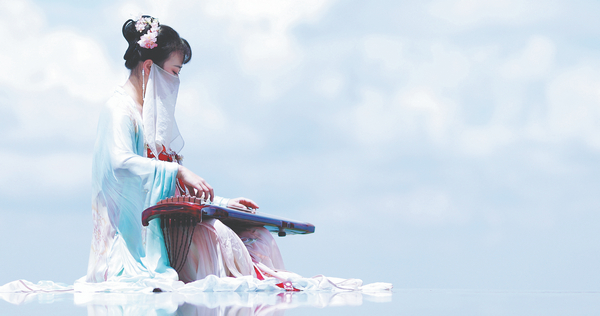 Videographer, teacher and lifelong student promotes love of guqin music to the masses, Cheng Yuezhu reports.
Against a serene natural backdrop, like sunlight flickering on the surface of a lake, or a vast, flower-strewn meadow, and clad in traditional Chinese attire, guqin player Xu Chaoran aims to create an immersive experience for her audience.
Better known online as Mr Nanyi — like a female hero in martial arts novels, Xu adopted a male alias when she decided to start uploading videos of her playing the guqin just over seven years ago. The seven-stringed Chinese zither, which is China's oldest stringed instrument, has been around for about 3,000 years, and was inscribed in 2008 on UNESCO's Representative List of the Intangible Cultural Heritage of Humanity. Xu is best known for putting it to modern use, playing her own adaptations and rearrangements of popular songs.
With an innate passion for music and art, Xu studied various arts as a youngster, from dancing and learning to play the guzheng (the Chinese plucked zither), to learning Western instruments like the guitar, piano and clarinet.