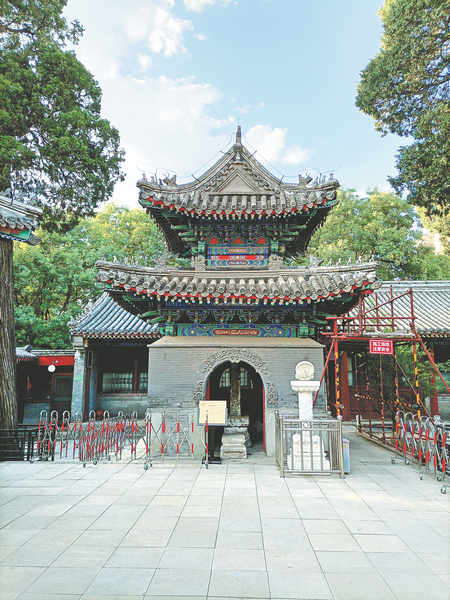 What do you do if most of the historically important sites in the capital have been ticked off the bucket list? The Palace Museum, The Great Wall, Temple of Heaven, Summer Palace, Ming Tombs, etc, were done and dusted, so I decided to do a quick search online for a place that would combine my love of history with food. Beijing is surprising in many ways, and one of the pleasures of an expat existence in this bustling metropolis is that it has a slew of options in terms of both cuisine and culture.
The browser query threw up Niujie Street, famed for its early 10th century mosque that is perhaps the oldest in the capital, and the sheer range of food on offer — in the form of takeaway, quick service and dine-in. The most cost-effective way to get to Niujie Street is to take the subway to Changchunjie station. The mosque is roughly 20 minutes away on foot, or a short two-stop bus hop and a quick stroll back.
At first, it looked nondescript. I had expected something more imposing, a grand mosque that would be teeming with visitors. However, from the outside it seemed more like a small dwelling in a hutong, or an alley lined with courtyard homes. Unwilling to enter, as it was officially closed to visitors for the day, I hesitated, but soon curiosity got the better of me. I stepped in and was absorbed in the ambience of the place when two helpful souls said that despite the late hour (it was past 5:30 in the evening), I could enter the main complex, except for a prayer hall that was open only to the faithful. As I stood there, four other visitors — three of them students and a lecturer from Indonesia staying at universities here, as I discovered later — also trooped in.
Once inside, what struck me immediately was how different it looked from the places of worship back home. Renovated or rebuilt several times over the intervening centuries, the structure had a homegrown feel to it, with its familiar sloped roofs, eaves and steles, or commemorative stone tablets. This was a mosque with decidedly Chinese characteristics, an example of how any faith can adapt itself to the local milieu given the right moorings. Descriptions of the place — of its history, the south stele pavilion, north stele pavilion, the Imams' tombs, copper cauldron, prayer hall and minaret — abounded, though they were written in Mandarin.
It was a delight to look at each structure and think of who or what might have passed through its gates. I was transported to an era of religious rigor, before modern amenities, when people's lives were simpler than nowadays. I was also struck by how tradition always hides in plain sight behind buildings of the past. My reverie was broken by the arrival of some worshippers, who went straight to the closed hall to immerse themselves in evening prayer. We soon got around to taking pictures, exploring the architectural intricacies and swapping notes about life in the capital. Stepping outside, it was a short walk from the mosque to the food joints. The long lines in front of takeaway counters and the small outlets did not deter us. The delicacies ranged from skewered lamb and meat cakes to a variety of noodles. We sampled some of these and soon it was time to say goodbye, with a promise to meet again to explore other little-known treasures of Beijing.
Contact the writer at biju@chinadaily.com.cn