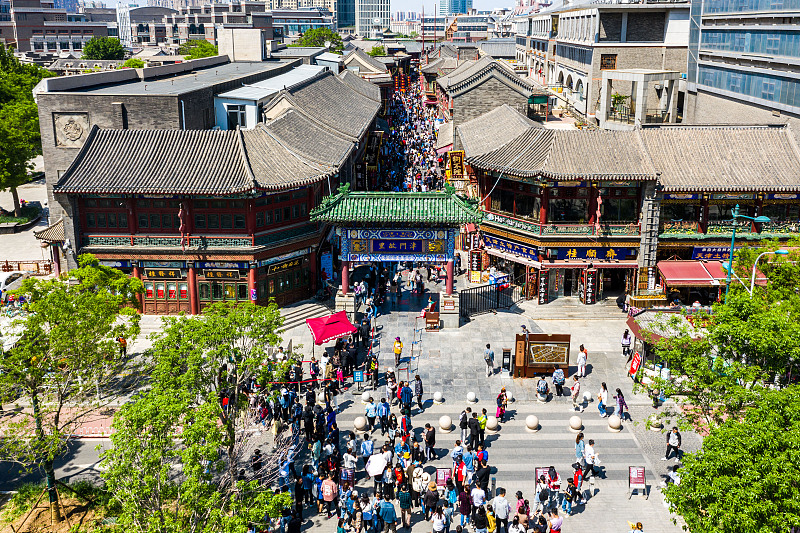 As a commercial pedestrian street and a popular tourist spot, the Tianjin Ancient Cultural Street serves as an open book for visitors to discover Tianjin's distinctive heritage.
Located in the Nankai District of Tianjin, the 687-meter-long street was formally opened in 1986, featuring about one hundred shops in the architectural style of the Qing Dynasty (1644-1911). It's one of the biggest markets in the city.
Goubuli steamed buns, pancake rolls, fried dough twists, sweet desserts and other local delicacies can all be tasted there. What's more, visitors can buy colorful clay figurines, antiques, ancient books, calligraphy items, kites, Yangliuqing New Year paintings and many other specialties there, or have an immersive experience at workshops.
At the center of the street, Tianhou Temple is a must-visit spot where people worship an ancient goddess. Long ago, sailors prayed for safety at the temple before they ventured out to sea. Built in 1326, it's the oldest building complex in Tianjin and is one of the oldest Mazu temples in China.
The Tianhou Temple retained its historical and cultural value after several renovations that took place as the city around it developed. Antiques, handicrafts and folk products are sold around the temple. Annual cultural events and festivals are often held there. During that time, folk artists will perform dragon, lion and yangge dances, drum shows and stilt walking, offering visitors a visual feast.
Tianjin Ancient Cultural Street is considered to be the cradle of Tianjin. The treasure trove stores the rich history and culture of the city and bears locals' footprints while embracing new changes and development.