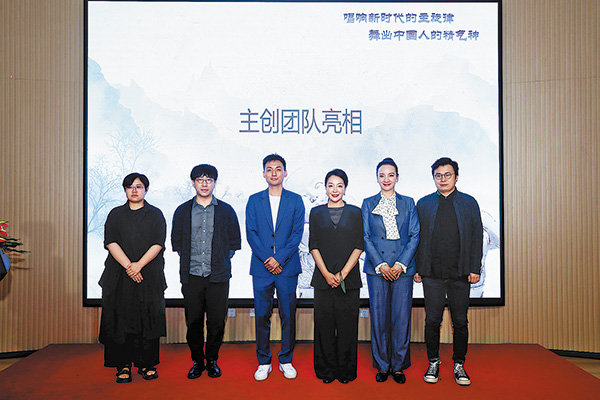 "With the success of Poetic Dance: The Journey of a Legendary Landscape Painting, we have seen the enthusiasm of the Chinese audience, especially the young people, who are very interested in traditional Chinese culture," says Jing.
"Their warm feedback made the dance drama a phenomenon in the country, which gave us the confidence to make another dance drama based on traditional Chinese culture."
Drama Hai'er Zhen will gather creative members from the company, including choreographers Li Li and Jin Miaomiao. Scholars and experts on the Ding kilns were also invited to be consultants.
According to Lyu Chenglong, a researcher at the Palace Museum in Beijing, porcelain objects from the Ding kilns had the reputation of being "thin as paper, white as jade". In 2008, the Ding Kiln porcelain firing technique was listed as an item of national intangible cultural heritage.
"The ceramics collection at the Palace Museum in Beijing is huge and has included a wide range of varieties, allowing people to see and understand a continuous development of the artifacts. Among the major treasures, hai'er zhen is one of the best-known pieces of art, which displays the zenith of ancient Chinese aesthetics," says Lyu.
There are three original ceramic baby-shaped pillows made with the Ding Kiln porcelain-firing technique in existence in China now, Lyu adds: one housed at the Palace Museum in Beijing and the other two in Taipei's Palace Museum.
The technique, however, declined and disappeared in the chaos of the late Yuan Dynasty (1271-1368). In 1922, Ye Linzhi (1888-1963), a historian of Chinese ceramics, discovered the Ding Kiln site in Quyang.
"Chinese ceramics spread to the rest of the world and nurtured local styles of porcelains. Now, Chinese artists have decoded the secrets of porcelain making and created modern works to keep the technique alive," Lyu adds.
The company also announced collaboration with the popular video-sharing site, Bilibili, which is considered as one of the most popular cultural platforms for young people, to launch an online recruitment for dancers of the drama.
Two popular influencers on Bilibili have been invited to join in the dance drama: Ziyan, who has nearly 840,000 followers on the platform, and Shi Tu Guan, who has over 1.7 million followers.
"Ziyan, who is a graduate of the Beijing Dance Academy and majored in traditional Chinese dance, is known for her original dance pieces," says Zhu Chengming, deputy Party secretary of Bilibili.
"Shi Tu Guan is known for sharing videos about Chinese history and traditional Chinese culture. We invited them to participate in the dance drama's creative process, hoping to attract more young audiences," says Zhu.
The China Oriental Performing Arts Group also announced that it will launch its first reality show by working with Jiangsu TV and Tencent Video in July, featuring dancers from dance schools around the country, as part of its effort on recruiting dancers for the dance drama.