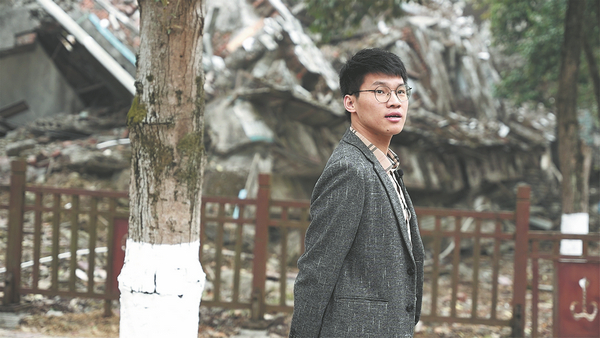 Fifteen years ago, on May 12,2008, an 8.0-magnitude earthquake shook Wenchuan county in Sichuan province, putting a sudden end to the lives of more than 69,000 people. Li Anqiang, then a high school student at Beichuan Middle School in Beichuan, one of the worst ravaged counties in the disaster, was in his physics class. The school building collapsed, leaving him buried in the ruins.
Li was rescued after 24 hours, but his legs, severely crushed, had to be amputated. For months, Li was overwhelmed by depression and isolated himself from others. In order to take care of him, Li's parents had to quit their jobs.
"I had no idea what I would do for the rest of my life. My parents weren't getting any younger and they couldn't be expected to push my wheelchair around every day," Li said. So he plucked up the courage to spend the following five months in rehabilitation and learned how to get around with his prosthetic legs.
Thanks to his prosthetic legs, Li regained the ability to walk. Then he was able to return to school and got admitted to Sichuan University with excellent grades. Upon graduating, he got the opportunity to continue his studies at Rutgers University in New Jersey, the United States. He obtained his master's degree with straight A's before returning to China to work at an educational institution.
Outside of his work, Li shared videos on social media about his life with prosthetic limbs and received many comments from fellow amputees. They wondered how he could walk so well with two above-the-knee prosthetic legs, as some of them found it hard with just one.
That was when it occurred to Li that he could make a career in helping those in need to find suitable prosthetic limbs and train them to walk freely again. So he found a job as a therapist specializing in prosthetic rehabilitation.
"The process of recovery can be extremely tough as it's like a toddler learning to walk," said Li, talking about rehabilitation for people with disabilities.
Moreover, the challenge is just as mental as it is physical. Li recalled one of his patients, a girl named Peng Yali, whose lower leg had been amputated. Peng found it hard watching other newer patients get discharged before her. So Li connected Peng with his female friends who also used below-the-knee prosthetic legs. Their stories inspired Peng and gave her new motivation. Gradually, after almost a year of rehabilitation, Peng was discharged and started working again.
It pains Li to see disabled people not getting out of their homes enough because they cannot move about freely or fear being stared at. This is what drives his work with prostheses and rehabilitation.
"I hope that one day when we walk down the street with prostheses, we are treated no differently to, say, people with glasses," said Li. "I plan to continue helping more people with disabilities to be less disabled, to move about more freely and enjoy life in the way they deserve."
mengwenjie@i21st.cn