Editor's note: There are 43 items inscribed on UNESCO's Intangible Cultural Heritage lists that not only bear witness to the past glories of Chinese civilization, but also continue to shine today. China Daily looks at the protection and inheritance of some of these cultural legacies. In this installment, we discover why guqin, a musical instrument with a history spanning three millennia, still strikes a chord with Chinese music lovers.

When talking about the history of the guqin, Wu Wenguang, a virtuoso performer of the ancient zither, likes to quote a folktale about the legendary friendship between a musician and his biggest fan.
During the Spring and Autumn Period (770-476 BC), there was a musician named Yu Boya, who lived alone in a forest where he played the guqin. A passing woodcutter named Zhong Ziqi was intrigued by the sounds of the musical instrument and stopped to listen. Yu's playing conjured up various pictures in Zhong's imagination, such as clouds flowing and waterfalls plunging. They became good friends. After many years, when the woodcutter died, Yu decided to smash his instrument and never to play again because he knew that he would never again have someone like Zhong to so intuitively understand his music.
"Such was the connection between performing and listening, which is linked by the guqin, an instrument that is endowed with the power to communicate the deepest feelings," says Wu, 78. "When we talk about traditional Chinese culture, the guqin, which was played by many literati and other notables, is definitely at the core of this culture."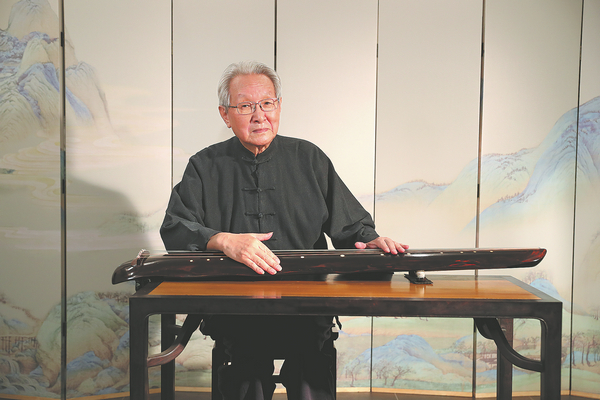 Indeed, the guqin — the favored instrument of Confucius — was an essential musical instrument of ancient China's educated elite. It was added to the Representative List of the Intangible Cultural Heritage of Humanity by UNESCO in 2008.
"The Chinese zither has existed for more than 3,000 years and represents China's foremost solo musical instrument tradition. Described in early literary sources and corroborated by archaeological finds, this ancient instrument is inseparable from Chinese intellectual history," the UNESCO website reads.
In April, when President Xi Jinping met with French President Emmanuel Macron, a classic guqin piece, High Mountain and Flowing Water, was played to celebrate the friendship and mutual understanding between the two countries.