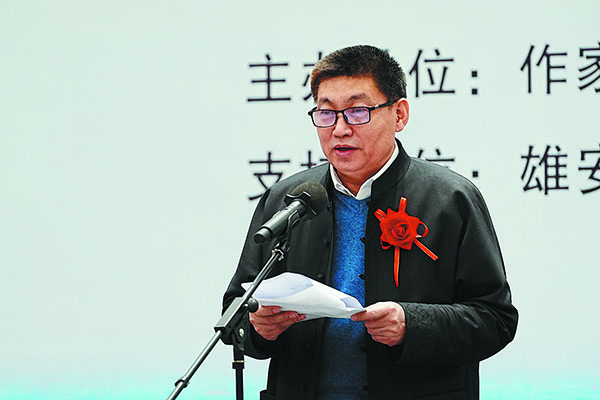 The central authorities announced a 2018-35 master plan for the new area, aiming to build it into a national model of high-quality development and a new engine for the modern economic system.
Guan details in the novel how residents have dedicated themselves to the new area's construction, against the real backdrop of major projects in Xiong'an.
Protagonist Wang Juexin participates in a project taking water from the Yellow River to Baiyangdian Lake to upgrade the ecology and provide water for a massive afforestation project. He was a fisherman, but has to adapt to his new job, working in a State-owned enterprise in Xiong'an.
"He experiences pain and confusion during his transition, a process through which he develops a deeper understanding of his hometown. Finally, he successfully leads his team, who were also formerly fishermen, to become excellent workers," Guan says.
To protect aquatic biodiversity, the government imposed a ban on fishing in the lake. The older generation of fishermen, including Wang Juexin's father Wang Yongtai, had mixed feelings about the policy.
"Initially, they resisted the reform, but have gradually changed their perspective as they witness the benefits enjoyed by others. Consequently, they embrace the transition to new industries, such as lotus-seed cultivation and tourism related jobs," Guan says.
In the book, graduate Sun Xiaoping volunteers to stay in the village's old academy of classical learning, helping locals sell farm produce via livestreams and encouraging them to read books. She spurs change and becomes a village official.
Guan believes that Sun encapsulates the integration of the old and new cultures. Also, it shows that industry transformation is drawing young talent back to the countryside to devote themselves to rural vitalization.
"I tried my best to write the grand narrative with beautiful wording and phrasing. Writing about the current era is more challenging compared to previous times, as it's difficult to maintain a sense of detachment from it," Guan says.
He adds that books about rural areas should demonstrate the complicated humanity and true emotions of the places they portray.
The work was selected as the first published book of a writing project about China's mountain villages in the new era.
Initiated by the China Writers Association, the project looks for original full-length novels that showcase the great changes in rural China and Chinese agriculture.
According to the association's vice-president Wu Yiqin, the project aims to cultivate young writers and grassroots literary talent and publish good-quality novels.