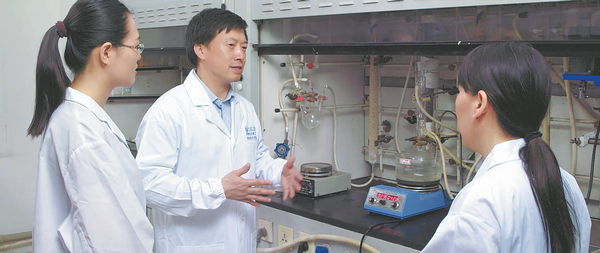 University president says the institution will focus on research and development and cross-disciplinary learning to enhance its contributions to the nation and the city, Xu Xiaomin reports.
Liu Changsheng's vision of the future isn't all that different to those seen in sci-fi movies: Humans will be augmented with the help of brain-inspired intelligence technology while new biological materials can be implanted to repair aged or injured bones, tissues and organs.
To fulfill the human race's thirst for knowledge, unmanned vessels will be dispatched to uncharted depths of the ocean in search of discoveries.
Liu, who is the president of Shanghai University and an academician of the Chinese Academy of Sciences, notes that similar scenarios have already occurred.
For example, the unmanned vessel developed by the university's Research Institute of USV(unmanned surface vessels) Engineering had played a key role in the archaeological salvage of the 150-year-old shipwreck known as the Yangtze River Estuary No 2 Ancient Vessel. The vessel was a boon to salvage efforts as the junction of the East China Sea and Yangtze River where the shipwreck was located has close-to-zero visibility due to the large amount of sand and mud running down from the upper level of the river. Such conditions make it impossible for humans to carry out salvage works.