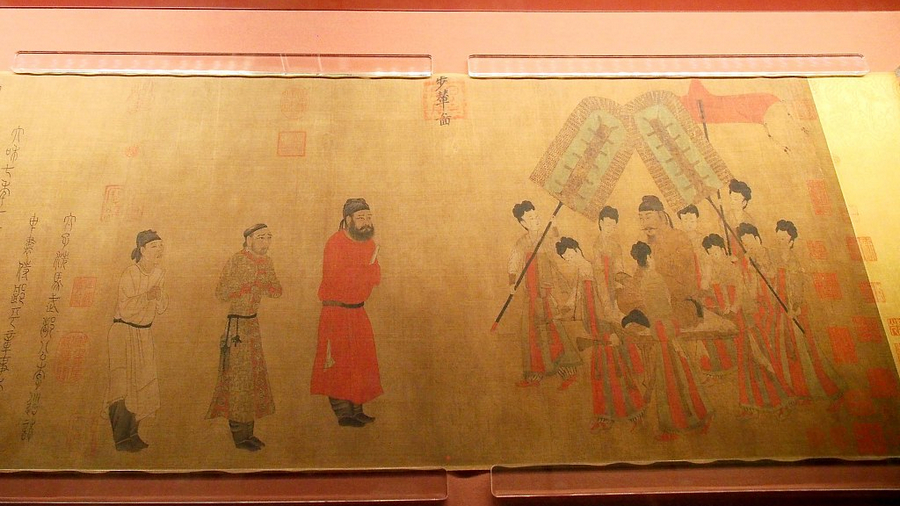 Counted among the "Ten Great Chinese Paintings," the famous historical scroll painting "Emperor Taizong Receiving the Tibetan Envoy," created by renowned painter Yan Liben (601-673), recently made an appearance in an exhibition at the Palace Museum in Beijing.
This painting faithfully depicts a scene in the year 641 when Emperor Taizong of the Tang Dynasty (618-907) received the Tibetan envoy, which came for Tang Princess Wencheng.
In the seventh century Songtsen Gampo, the chieftain of the Tibetan Tubo Kingdom (C. 618-842), sent an envoy to Chang'an (the capital of the Tang Dynasty, today known as Xi'an) to propose a marriage. Emperor Taizong consented to the proposal and agreed to give Princess Wencheng in marriage to him. In the spring of 641, the envoy sent by Songtsen Gampo arrived at the court to escort the princess back to Tubo, where she would become the queen.
Princess Wencheng brought not only Tang Dynasty customs and ritual practices, but also a large retinue of craftsmen, which had a stimulating effect on the Tubo tribal economy and culture. As a result, the Tang Empire and Tubo maintained a good relationship for a considerable period.
In addition to well-known artworks such as this painting, the exhibition also features a large number of cultural relics being displayed to the public for the first time.
The exhibition showcases a total of 108 cultural relics, including 13 items from various units of the Cultural Heritage Bureau of the Xizang Autonomous Region and the management committee of the Sakya Monastery, as well as 95 items from the Palace Museum. It is on until July 30.