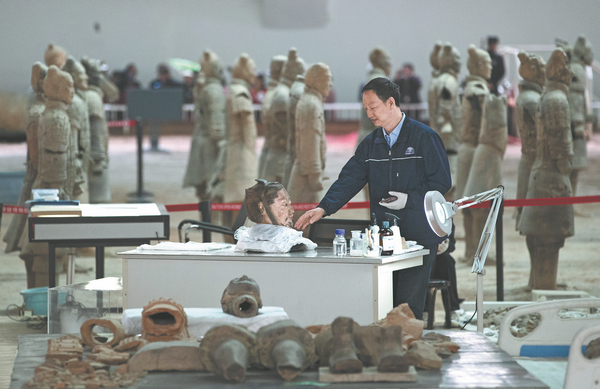 Dedicated craftsmen and women battle against time itself, breathing new life into China's precious ancient artifacts, report Wang Kaihao, Zou Hong and Sun Ruisheng.
Editor's note: The 20th National Congress of the Communist Party of China set out a blueprint for China's path to modernization, with the aim of guiding the development of all walks of life in the new era and contributing positively to global progress. Through the year, China Daily will run a series of picture stories that highlight important waypoints on this journey. In this third installment, we focus on the conservators and restorers who combine traditional craftsmanship with cutting-edge technology to ensure the longevity of the nation's cultural treasures.
With a long history and rich cultural splendors, ancient China provided the world with an uninterrupted lineage of civilizations lasting for millennia that are still inspiring.
Thanks to the cultural relics our ancestors left behind, key events that might have influenced the destiny of a dynasty, or special moments in the lives of people long gone, come to life.
However, when we pay to admire, and in some cases be astounded by, such relics, we can hardly ignore the fact that, often, time has taken its toll on the relics, be they porcelain shards, fading murals or weathered roofs on ancient temples.