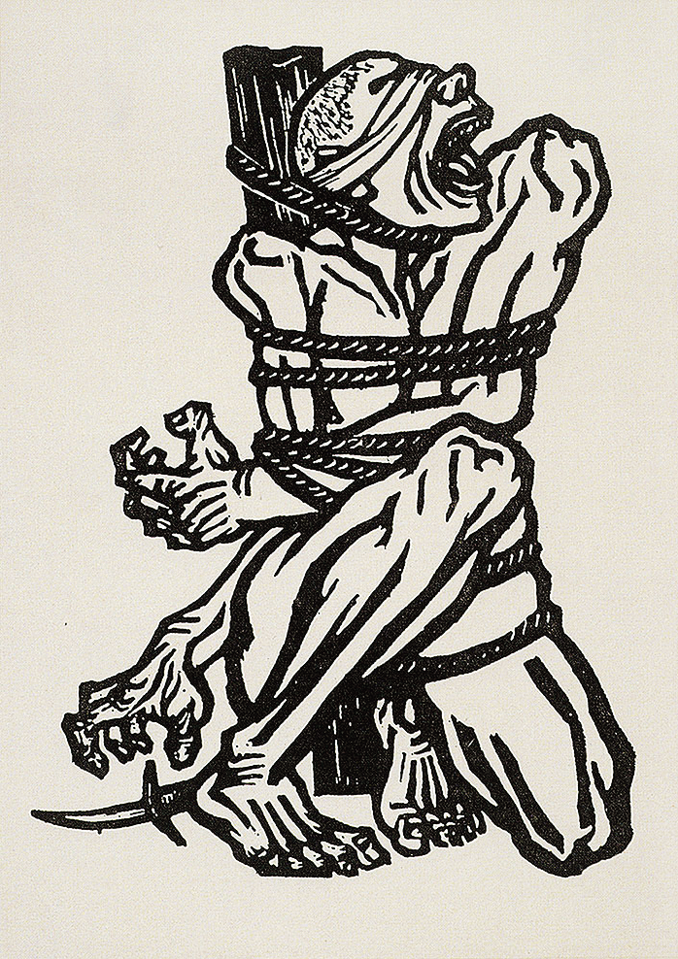 Woodcut artist Li Hua's 1935 print China, Roar, a tour de force of the movement, depicts a blind-folded, tightly-bound man screaming in agony. A symbol of the country's dire circumstances at the time, the work achieved great resonance and was widely disseminated.
After the founding of the People's Republic of China, printmaking between the 1950s and early 60s was mostly about eulogizing socialism, world peace and the country's diverse landscapes. Li Qun, Xu Kuang and Niu Wen were among artists representing this era. The National Print Exhibition showcasing the country's best prints was also held five times between 1954 and 1963.
China's print art development stalled during the Cultural Revolution (1966-76), during which many artists were denounced and sent to the countryside to reform themselves through labor.
In 1979, the National Print Exhibition resumed after a hiatus of 16 years, a year after the adoption of the reform and opening-up policy, which injected great vitality and confidence in the country's print artists. Artists Xu Kuang, A Ge, Xu Bing and Wang Huaxiang are standouts during this period.
In 1980, a silkscreen printing studio was established at the Central Academy of Fine Arts which has since greatly enriched the means of printmaking.
In the meantime, young Chinese artists, stimulated and inspired by the western modern art, started the '85 New Wave Movement, which flourished between 1985 and 1989. Artists produced a medley of conceptual, provocative artworks that reacted to Socialist Realism, which had dominated the country's art scene since the 1950s.
The movement also pushed China's printmaking into a more expressive, abstract realm. Prints by Fang Lijun and Su Xinping on display at the show speak volumes for this artistic propensity.
With the advent of digital printing in the 21st century, printmaking in the contemporary era has become a multifaceted art where traditional processes overlap with new technologies. Instead of engraving on a woodblock or etching on a copperplate to produce the desired image, emerging artists such as Lyv Xiaozheng and Chen Wang use digital tools such as the iPad or Photoshop to assemble and manipulate visual information into new kinds of images.
The exhibition runs through May 29 and is free to the public.
If you go:
10 am-6 pm, 1 Wangfujing Dajie, Dongcheng district, Beijing