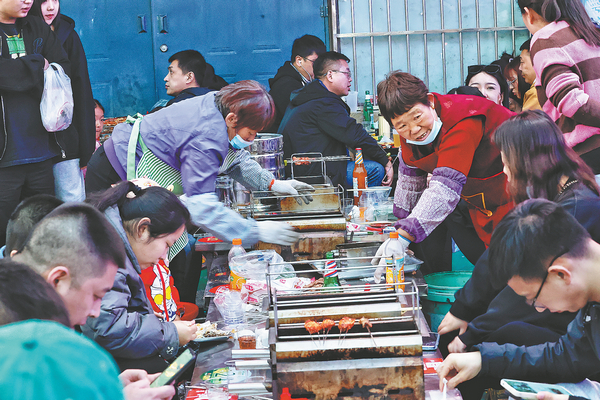 Barbecue trade brings influx of visitors, triggers internet sensation
On a working day late last month, a yard that is home to more than 10 barbecue restaurants in Zibo, Shandong province, was packed with diners at about 5 pm.
Lines formed as people waited for tables at the businesses in the city's Linzi district. Some diners even made their way inside the restaurants to obtain skewers, instead of waiting for waiters to pass them the implements, as the staff members were so busy.
A 51-year-old resident, who wished to be named only as Yu, said: "In the past two months, we have seldom come to the yard for barbecue food because there are so many people. We had to wait in line unless we arrived extremely early. Many diners come from outside Zibo, judging from the license plate numbers of vehicles parked near the yard."
Yu added that she had never seen such crowds in the area before.
Zibo, an old industrial city, barely featured on most people's list of must-visit places in the past, until its barbecue scene went viral, attracting a huge influx of visitors during the past three months. These arrivals, who are mainly young people, have made the city well-known nationwide.
The once-thriving industrial hub with a population of 4.5 million is capitalizing on the fame of its sizzling culinary fare to fuel economic growth amid efforts to upgrade an old economic structure dominated by large industrial projects.
In the first quarter of this year, Zibo achieved GDP of 105.77 billion yuan ($15.07 billion), a rise of 4.7 percent year-on-year, the city's bureau of statistics reported.
The bureau said the local consumer market showed a strong recovery in the first quarter, with retail sales of consumer goods reaching 31.36 billion yuan, a year-on-year rise of 8.3 percent.
Since March, an average of 135,800 customers a day have headed to the 1,288 barbecue businesses in the city, the Zibo Bureau of Commerce reported at the end of last month.
These customers generated a 35 percent year-on-year rise in revenue for major barbecue restaurants in Zhangdian district, the city's main urban area, while the districts of Zhoucun and Linzi reported rises of more than 20 percent compared with last year.
During the five-day May Day holiday, Badaju market, a wet market in Zibo, was China's most-visited destination, ahead of well-known tourist sites such as the Great Wall, data from Baidu Maps show.
Zibo railway station catered to 240,000 passengers during the holiday — growth of 55 percent compared with the same period in 2019.
The outstanding performance of barbecue restaurants attracted officials from many cities, especially those with heavy industrial projects, to Zibo in search of new development paths. The officials conducted field studies on how Zibo's barbecue industry went viral on the internet.