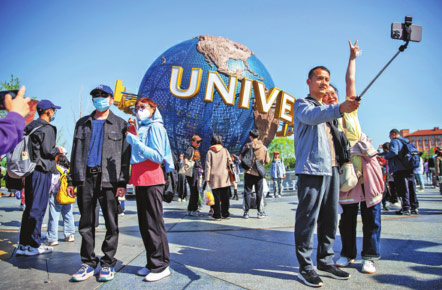 BEIJING — China's theme parks are eyeing robust growth this year, as the ongoing tourism recovery and market brought in throngs of big spenders.
Many theme parks in China have reported ticket sales and tourist visits bouncing back to pre-COVID-19 levels in the first few months of this year, with the May Day holiday being a particularly busy season.
Shanghai International Resort, home to Shanghai Disneyland and some smaller tourist spots, received 6.3 million visits in the first quarter, up 81 percent year-on-year. Tourism revenue during the period surpassed 4 billion yuan ($572 million), a yearly increase of 116 percent, said Yao Jianfeng, deputy director of the Shanghai International Resort management committee.
Both figures touched new highs for the same period over previous years. The number of tourists is expected to hit 20 million this year, Yao added.
Zhuhai Chimelong International Ocean Resort, a theme park in South China's Guangdong province, said the number of tourists in the first quarter was largely on par with that registered in the same period of 2019.
The Universal Beijing Resort registered significant rises in sales of dated tickets and "hotel plus ticket" packages this year. The May Day holiday also saw its "Universal Express" and "VIP Experience" services snapped up well in advance.
Compared with other tourist attractions, theme parks feature a more immersive experience and closer association with movies and other cultural products. The higher spending in such parks means they are more popular among wealthier tourists, industry observers said.
Most of the visitors to Chimelong Ocean Kingdom, for instance, come from economically sound metropolises and cities linked by high-speed railways, said a spokesperson with Chimelong Group.
"Tourists on average spend more in theme parks, including the much more expensive entrance fees (compared with most other tourist spots), themed souvenirs and food," the spokesperson said. "Many tourists go to theme parks with families and friends, and have budgets for catering and accommodation, so it's quite common for each tourist to spend 1,000-2,000 yuan."
"I am a big fan of Harry Potter movies, so I have been looking forward to this trip since the Universal Beijing Resort opened," said Cui Wan, a 26-year-old teacher from Shanghai.
In total, Cui spent more than 1,000 yuan during her one-day trip to the resort, including souvenirs and renting a Slytherin robe to rub shoulders with other Hogwarts "wizards" and "witches" in the park.
The high cost has not deterred Chinese holidaymakers from flocking to theme parks. Industry data showed China's major theme parks reported steady growth in business revenue and the number of visitors in 2021, despite the effects of COVID-19.
The combined business revenue of the 70 theme parks surveyed surged 40.1 percent year-on-year to about 13.3 billion yuan in 2021. Meanwhile, tourist trips to these parks climbed 11.5 percent year-on-year, said a report released by the Institute for Theme Park Studies in China and two universities.
According to experts, aside from the rapid tourism recovery in the post-pandemic era, the rising enthusiasm toward China's theme parks will benefit from market upgrades and the increasing spending power of Chinese tourists.
"Chinese tourists are increasingly pursuing high-quality and bespoke tours, and are placing greater focus on travel experience," said Dai Bin, president of the China Tourism Academy.
"While riding on a market rebound, China's tourism sector is now transitioning toward high-quality development," Dai added.