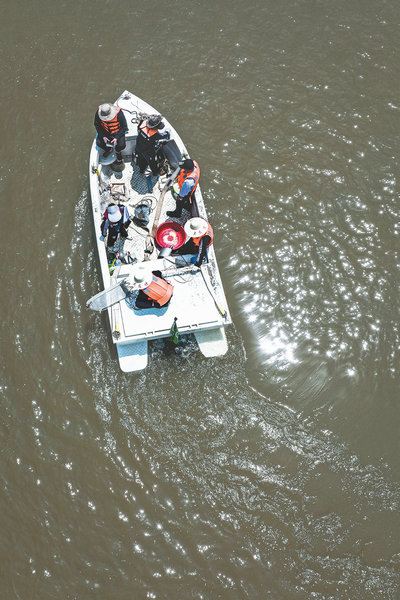 After obtaining the samples, researchers separate aquatic life, such as algae and benthic invertebrates, from water or mud. For 25-year-old Xiong Shaokai, it is a task that needs patience and care.
"Inside a mud sample, there is a microworld and benthic invertebrate communities are an important indicator in water health assessment," Xiong says.
The benthic invertebrate community is sensitive to disturbance and is a valuable indicator of the overall health of estuarine ecosystems.
Stretching more than 6,300 kilometers, the Yangtze is a deeply significant waterway in the history, culture and development of the Chinese nation and the central government has intensified efforts to protect the river environment.
Adopted in late 2020, the Yangtze River Protection Law went into effect in March 2021.
Measures were also rolled out to ramp up the treatment of wastewater in industrial parks along the river, as well as to enhance the management of tailings ponds (mixtures of water, sand, clay and residual bitumen left over from the process of separating oil from sand and clay) in mines and the phosphorus sector. To preserve Yangtze biodiversity, China started a 10-year fishing moratorium along the river, protecting more than 4,300 types of aquatic life.
According to the latest statistics from the Ministry of Ecology and Environment, the water quality of the river's primary course has remained Grade II since 2020.
Under the country's six-tier quality system for surface water, Grade III and above is classified as "fairly good".