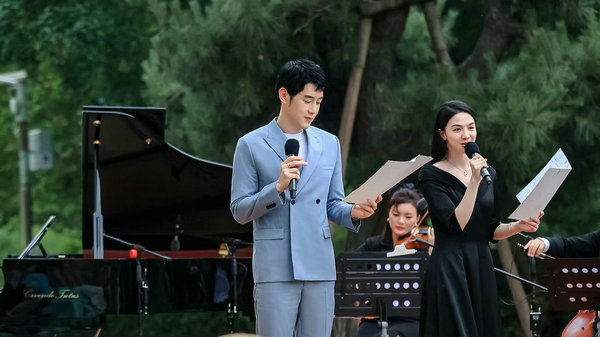 To joyfully embrace the blooming summer, Bulgari Hotel Beijing presented the garden poetry ensemble A Poem to Traveling, in partnership with The Poem for You, an international arts and cultural exchange platform, on Tuesday.
The event combined live performances and poetry recitations to showcase the romance of early summer and inspire audiences' aspirations to travel. A range of musical instruments, such as piano and cello, were played in turn, creating an elegant artistic ambience at Bulgari Hotel Beijing.
This event aimed to poetically interpret the freedom, relaxation, openness and inclusiveness that people experience during travel. It aimed to encourage more travelers to live happy lives by discovering the unknown world, the magical nature and the unseen self.
Accompanied by pianist Xiao Ying, cellist Fu Chao and violinist Cai Honghua, soprano Zhang Lili sang a prelude version of a classic Italian opera for this enchanting evening. Dancer Tang Shiyi, together with actor Andy Chen, started the garden poetry ensemble with a soulful piano and cello concerto entitled I Wandered Lonely as a Cloud.
Dancer Gao Yanjinzi performed interactive dance numbers, and Siddharth Chatterjee, the United Nations resident coordinator in China, started the first chapter with a poem. Folk singers Chen Hongyu and Xianzi recited a collection of poems in this chapter and envoked the charm and joy of traveling to the audience.