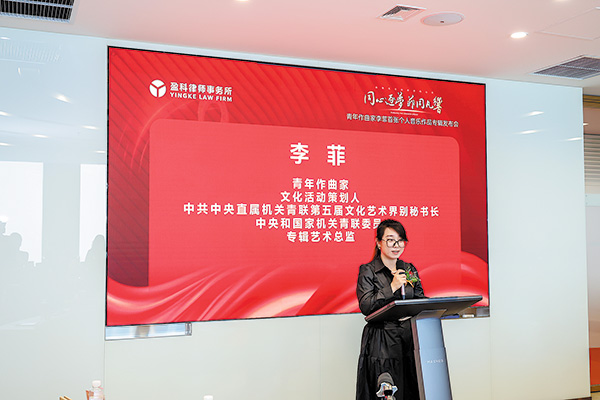 In 2017, when composer Li Fei was commissioned to write songs for Chinese Cities, a TV show produced and aired by China Central Television, she traveled around the country to collect local music elements.
The weekly TV show introduced the history and culture of different Chinese cities, in a bid to promote tourism. As each episode aired, Li's songs were enjoyed by the viewers.
On Saturday, Li released her debut album, Pursuing the Common Dream, in Beijing, which features over 30 original songs.
The songs that Li wrote for the TV show are featured on the album, including Shan Shui Jian (Between Mountains and Rivers), which Li wrote for Loudi, a city in Hunan province that is an important railway hub, and Yi (Memory), which she composed for Hangzhou, a popular city for tourists in Zhejiang province.
"When I was a young musician, I focused on studying the techniques of songwriting. As I grew up and gained life experience, I learned that what really matters for a songwriter is the emotions behind songs. I love traveling and meeting with people, which inspires me," says Li.
According to Mei Xiangrong, the album's executive supervisor, he met Li when they worked together on the TV show and he was impressed by Li, who spent a long time traveling around the country to collect folk songs and the sounds of different folk instruments, which she later incorporated into her own songwriting.
"She is a very talented young musician and full of imagination. When she studied the cities featured in the TV show, she soon developed ideas about how to portray their history, culture and natural scenery through music," says Mei.
The album is named after the song Pursuing the Common Dream, which was written by Li to celebrate the 25th Acrobatic Gymnastics World Championships held in Putian, Fujian province, in 2016.There was also an English version of the song, titled Let's Meet Heart and Soul, which had translator Huang Youyi contribute to the lyrics. Chinese singers, including pop star Sun Nan, soprano Chen Xiaoduo and tenor Wang Chuanyue, performed the two versions of the song.
"Over the past decades, I've written songs for many national events and galas, which allowed me to express my feelings for those special occasions. I've worked with great lyricists and singers. This debut album is like a review of the musical path that I've walked so far," says Li.
The album also features Li's latest creation, a song titled Renjian Xinghe (The Galaxy Among Us), which Li both composed the music and wrote the lyrics for. The song was released last year and performed by veteran Chinese baritone Liao Changyong. With heartwarming lyrics and a comforting melody, the song was dedicated to people fighting against the COVID-19 pandemic.
Born in Fushun, Liaoning province, Li learned to play the piano as a child. She had her first piano recital in her hometown when she was 13.Later, she came to Beijing to study piano at the China Conservatory of Music, where she obtained her Bachelor of Arts and Master of Arts degrees.
Now, she serves as the deputy chief of the creation and research division of the musical art center of the China Federation of Literary and Art Circles.