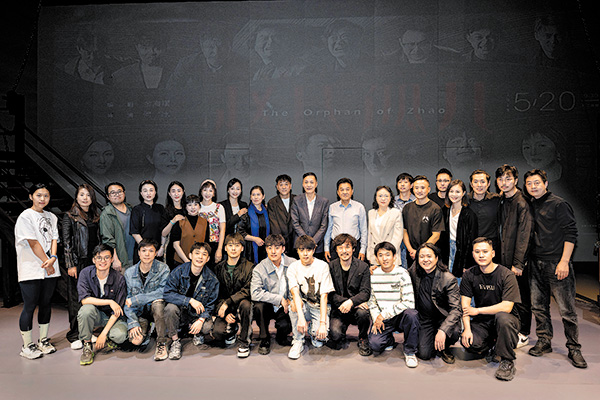 Known as China's Hamlet, The Orphan of Zhao, which is a story of revenge, is one of the country's most famous tales. Written by Yuan Dynasty (1271-1368) dramatist Ji Junxiang, it was one of the first Chinese plays to be translated for Western audiences.
The story has been adapted into many art forms, such as a Chinese movie, Sacrifice, by director Chen Kaige, and an English play titled The Orphan of Zhao by the Royal Shakespeare Company.
Now, Beijing People's Art Theatre is going to present a new version of the tale, which, directed by He Bing and featuring 17 young actors and actresses of the theater, will be staged in the capital from May 20 to June 5.
The new play, titled The Orphan of Zhao, is based on the theater's 2003 version of the story, which was directed by Lin Zhaohua, who played one of the leading roles, Cheng Ying.
"It has been 20 years, and the experience of performing in the play and working with Lin still feels fresh to me," says He. "I had never played in any theatrical productions like it. The play was very dreamy, glamorous and deep. Now, as a director myself, I want to share my experience and knowledge about The Orphan of Zhao with a younger audience. But this new play is nothing like the 2003 version, though we use the same script written by Jin Haishu." The Orphan of Zhao is He's directorial debut with the theater.