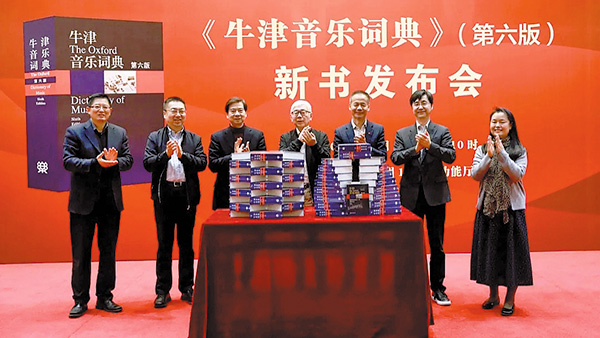 The People's Music Publishing House has spent the past five years translating and compiling the Chinese version of the sixth edition of the Oxford Dictionary of Music. On April 27, it was released in Beijing.
With more than 10,000 entries, the Chinese version of the dictionary offers broad coverage of a wide range of musical categories, such as composers, singers, orchestras, ballets and operas, as well as musical instruments and their history.
"We published a Chinese version of the fourth edition of this dictionary, which became an important tool for professional musicians and music lovers," says Shen Zhijin, president of the publishing house.
"The text of this sixth edition has been thoroughly revised and updated, and is an ideal book for students and teachers of music, and for musicians, concertgoers, and all those who enjoy playing or listening to music."
More than 250 new entries have been added to this sixth edition to expand coverage of popular music, ethnomusicology, contemporary composers, music analysis, and recording technology, Shen adds.
The translation of the sixth edition of the dictionary was led by Yu Zhigang, a professor of the Central Conservatory of Music, who is also the vice-president of the Society for Western Music in China. Yu gathered six translators, including Huang Jian, who is the head of the music school of Shaanxi Normal University, and Yin Shi, who is the deputy director of the editorial department of Central Conservatory of Music Press.
According to Yu, the Oxford Dictionary of Music, first published in 1952, is one of the most comprehensive one-volume dictionaries of musical terms. With the rising popularity of classical music in China, it's significant to release this dictionary's Chinese version, which is an essential point of reference for music students, professionals and music lovers.
"It offers Chinese musicians and music lovers clear and succinct definitions of a comprehensive range of musical terminology. For the latest edition, we have also translated French, German, and Italian musical terms, which are useful for music students and enthusiasts," Yu says.
"Now, the dictionary is released, we are looking forward to feedback from the readers. When I read back through the emails and messages I exchanged with the other translators and editors of the People's Music Publishing House during the past five years, I am very touched. It's been an unforgettable experience," Yu adds.